Photo Gallery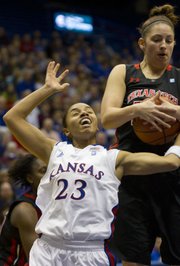 KU women's basketball vs. Texas Tech
Related document

KU-Texas Tech women's box score ( .PDF )
First, the Kansas University women's basketball team's double-digit cushion had dwindled to only a few points. Then, the once comfortable lead was gone altogether.
And as the buzzer sounded on Saturday's 61-57 loss to Texas Tech at Allen Fieldhouse, the Jayhawks could do little more than sulk off the court and wonder how it all slipped away.
"When they turned up the heat, we got soft," coach Bonnie Henrickson said. "Your margin for error in this league is that small."
There were some missed KU free throws (nine), and turnovers (14), but the game truly got away in the second half, where TTU got layup after easy layup while KU couldn't muster any quality looks of its own, going the final 5:15 without scoring a point.
"It does happen fast," said junior forward Aishah Sutherland, who led KU with 17 points. "It's like a blink of an eye."
The Jayhawks took a 34-25 lead to the locker room on the strength of a 17-2 run, but were it not for 13 offensive rebounds for the Red Raiders, who shot only 29 percent in the half, the lead could have been even greater. 
That aside, KU surged out of the break and extended its lead to as many as 15 before TTU began to chip away.
"They spread us out and played us one-on-one," Henrickson said. "A large part of post defense is ball pressure, and we didn't pressure the ball and gave up clean looks inside."
Sophomore Carolyn Davis, who notched her third straight double-double with 11 points and 13 rebounds, rarely received any touches late inside as the Jayhawks settled for contested jumpers, while the Red Raiders continued to get close looks at the basket.
"We just laid back and thought everything would come easy," Sutherland said.
Kierra Mallard (15 points, 11 rebounds) and Teena Wickett (15 points) led the charge, and a layup with 19.7 seconds remaining put TTU on top for good.
One tough Big 12 loss isn't enough to derail the Jayhawks' plan of reaching the NCAA Tournament. But against Texas Tech, a team whose conference record over the past three seasons is identical to KU's, the Jayhawks clearly let one slip away.
"It's going to hurt down the road," Davis said. "We're going to look back and be upset because we didn't win this game. But I also think there's a lot to learn from this. I think that that's where we have to grow as a team. And mature, and be able to put somebody away."
Copyright 2018 The Lawrence Journal-World. All rights reserved. This material may not be published, broadcast, rewritten or redistributed. We strive to uphold our values for every story published.