Photo Gallery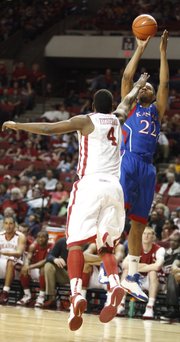 KU vs. Oklahoma
Press Conferences & Post-Game Interviews
KU coach Bill Self
Kansas coach Bill Self talks to reporters following the Jayhawks' 82-70 victory over Oklahoma on Feb. 26, 2011.
Press Conferences & Post-Game Interviews
KU players Tyrel Reed and Marcus Morris
KU players Tyrel Reed and Marcus Morris talk to reporters following the Jayhawks' 82-70 victory over Oklahoma on Feb. 26, 2011.
Norman, Okla. — Though Jeff Capel isn't their coach, he can't help but root for Kansas University forwards Marcus and Markieff Morris.
"You see guys improve like that, you know they've done it by work," Oklahoma coach Capel said following KU's 82-70 victory on Saturday. "As a fan of basketball, it's really good. Not as a fan of Kansas' team tonight, but as a fan of basketball, it's really good when you see young people working on their games and getting better."
The Morris twins combined for 42 points against Oklahoma with nearly identical stat lines.
Marcus scored 23 points on 7-for-10 shooting with nine rebounds, while Markieff contributed 19 points on 7-for-11 shooting with 10 rebounds.
Capel let out a chuckle when asked what was most impressive about the twins.
"Everything," he said. "Those guys can shoot it. They're skilled. They can play with their back to the basket. They can pass it. They're very, very good."
OU senior guard Cade Davis complimented the Morris brothers' work early in possessions, as often they were able to get post position before OU's defense was set.
"They don't have to make a lot of post moves when they bury you deep like that," Davis said. "Just their confidence, the way they play off each other. ... That chemistry with twins, I'm sure it's even better for them. They're very impressive. They're going to do great things in life."
KU's best offense came in the first half, when the Jayhawks made 17 of 24 shots (71 percent), six of 11 threes (55 percent) and 11 of 13 twos (85 percent).
"We tried as much as we could in that first half to stop them. It was kind of pick your poison," Capel said. "They had such an advantage of size against us."
OU offered little resistance on the boards — an area where Capel said his team was "annihilated."
The Jayhawks outrebounded the Sooners, 35-16. It was the lowest rebounding total for OU in its last 15 seasons — supplanting a 20-rebound effort against Texas A&M; on Jan. 8 earlier this year.
"We're a team … we have no margin for error," Capel said. "Most teams don't have a huge margin. We have no margin for error."
The loss was OU's seventh straight, though Capel said there were positives to take away, like freshmen Tyler Neal (25 minutes) and Calvin Newell (24 minutes) getting extended playing time.
"This is making them better basketball players," Capel said. "This is helping me become a better coach. I don't like losing. Our guys don't like losing. But this is helping us for our future."
Copyright 2018 The Lawrence Journal-World. All rights reserved. This material may not be published, broadcast, rewritten or redistributed. We strive to uphold our values for every story published.