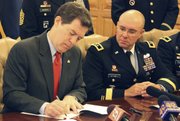 Topeka — Gov. Sam Brownback signed an Army Community Covenant during a ceremony marking Armed Forces Appreciation Day in Kansas.
The Republican governor declared the day of recognition Thursday, and signed an executive order establishing the Governor's Military Council. The group will assist Brownback in matters dealing with the military at state and national levels. A similar council has existed for several years.
Officials from Fort Leavenworth, Fort Riley and McConnell Air Force Base joined Brownback for the signing ceremony in his office. Kansas Adjutant Gen. Lee Tafanelli also took part in the ceremony.
Fort Leavenworth was established in 1827 and is the Army's oldest continuously operated installation west of the Mississippi River.
Fort Riley was established in 1854 near Junction City as an outpost protecting settlers and traders.
Copyright 2018 The Associated Press. All rights reserved. This material may not be published, broadcast, rewritten or redistributed. We strive to uphold our values for every story published.