Photo Gallery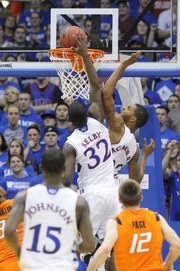 KU vs. Oklahoma State
Press Conferences & Post-Game Interviews
KU coach Bill Self
Kansas coach Bill Self talks to reporters following the Jayhawks' 92-65 victory over Oklahoma State on Feb. 21, 2011.
Oklahoma State coach Travis Ford wasn't blaming his defense for Kansas University's 92-point effort Monday night.
"We didn't do bad, but (the Jayhawks) played as well as I've seen them play," Ford said following KU's 92-65 victory. "They really, really shot the basketball. Really shot it. And I've seen them shoot well, but I don't know about to that extent."
KU made 54.4 percent of its shots and 43.5 percent of its threes.
"When they shoot the ball like that, I don't see how anybody can beat them," Ford said. "Too many weapons. Too many weapons. They're just really, really good. Really good."
That included Marcus and Markieff Morris, who combined for 42 points on 15-for-23 shooting against the Cowboys.
Ford said the brothers were two of the toughest players OSU had faced all year because of their versatility.
"Every time they shot, you think, 'Well, he's not going to make this one, surely,'" Ford said, "then they just kept making them."
OSU forward Marshall Moses said he was impressed with the twins' defense.
"They can guard, both of them," Moses said. "I didn't even know a lot of times which one was guarding me, whether it was Marcus or Markieff. Kansas as a whole was a really good defensive team."
KU's 92 points were the most allowed by OSU this season. The Jayhawks' 52 first-half points were 10 more than the Cowboys' previous high allowed this year (against Oklahoma).
"They're just as good an offensive team that I've seen in a very, very long time," Ford said.
Moses agreed.
"If you make a mistake, man, they make you pay," Moses said. "If you leave them open, they make it. They're a really efficient team. That's the best word I can use to describe them."
Ford didn't hesitate when asked if KU should be in the discussion for top team in the country.
"I don't think there's any question, you can definitely talk about them being one of the best teams easily. Easily," Ford said. "You don't have to be any genius to figure that one out. They're as good as advertised."
Copyright 2018 The Lawrence Journal-World. All rights reserved. This material may not be published, broadcast, rewritten or redistributed. We strive to uphold our values for every story published.