Photo Gallery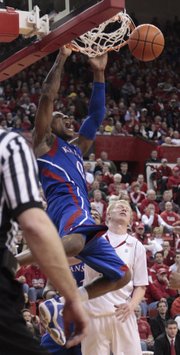 KU vs. Nebraska
Lincoln, Neb.. — Kansas University freshman guard Josh Selby, who sprained his ankle against Kansas State on Jan. 29, has a stress reaction in his right foot.
He dressed for the game and ran through warmup drills, but didn't play Saturday at Nebraska.
"There's no line (break), no fracture, no nothing," KU coach Bill Self said, "but it is in a spot that's potentially dangerous. If he rolled his ankle, it could maybe become a stress-type fracture. We didn't want to chance it. He could have played. He is tender. I don't know if he'll be available Monday or not (for Missouri, 8 p.m., Allen Fieldhouse). The doctors don't believe it'll be more than a few more days (he'll have such discomfort)."
Tigers 'scrappy'
Marcus Morris realizes playing Missouri, a team that likes to press, will be challenging Monday.
He provided quite a colorful quote when describing the Tigers.
"Scrappy," he said. "They are like little gnats that won't get out of your kitchen when you leave the dishes out a long time. They don't leave you alone. (But) I can't see a team trapping for 40 minutes and us not getting better at it and we breaking their trap."
Technically speaking
Marcus Morris and Jorge Brian Diaz were assessed double technicals for barking at each other.
"They're starting to call me Rasheed Wallace," Morris cracked, referring to the NBA's all-time leader in technical fouls.
Reed booted
Tyrel Reed, who exited the arena wearing a boot on his left foot, scored 14 points in 32 minutes.
"I mean, it's sore, but I'm going to play with it," Reed said.
Brotherly love
Marcus Morris was asked how tough the Jayhawks will be if his brother, Markieff, hits three threes in three tries as he did Saturday.
"Too tough," Marcus said. "He's tough enough inside. If Kieff's making 'em like that, it'll be hard for anybody to stop us. It's definitely tough for teams to mess with us when we get going."
Series notes
KU leads the overall series with Big Ten-bound Nebraska, 170-71. The Jayhawks have won 17 straight in the series dating to the 2003-04 season. KU also has won 26 of its last 27 versus NU dating to 1998-99 season. ... KU, which does not figure to visit Devaney Center again, at least in the foreseeable future, is 19-16 in the building. ... KU has won seven straight in Devaney. ... KU is 31-3 versus NU since the inception of the Big 12.
This, that
KU is 22-1 (7-1 in the league) and has won 22 games for 22 straight seasons. .. KU is 7-0 in true road games this season and 11-0 away from Allen Fieldhouse. ... Self is 224-44 while at Kansas, 431-149 all-time and 19-1 against Nebraska, including 17-1 while at KU. ... Brady Morningstar started with the group of Marcus Morris, Markieff Morris, Tyshawn Taylor and Reed. This starting lineup is 8-0 in 2010-11. ... KU hit 13 threes (in 24 tries), most threes since hitting 14 versus Tennessee Tech on Nov. 27, 2009. ... In KU's earlier meeting with the Cornhuskers on Jan. 15, the Jayhawks scored 25 points in the first half. Saturday afternoon Kansas had 25 points in the first 9:55. ... KU outrebounded Nebraska 33-30 and has outrebounded 19 of 23 opponents. ... KU outshot the Huskers 55.6 percent to 41.1 percent. Kansas has shot 50 percent or better 16 times in 2010-11 and has outshot 21 of 23 opponents. ... Markieff Morris hit a career-high three three-point baskets for his second game this season with multiple three's. Markieff finished with 17 points on 6-for-6 shooting in his third-straight game with double-figure points and fifth time in the last six games. He pulled down a season-low one rebound. ... Tyshawn Taylor recorded five assists and has handed out three or more dimes in 19 of 23 games this year.
Walker, talker
Nebraska wing Caleb Walker, who missed a late three-pointer that would have forced overtime in NU's 63-60 loss to KU on Jan. 15 in Lawrence, attended Hutchinson High and Butler County Community College.
"It was amazing playing in Allen Fieldhouse,'' Walker told the Omaha World-Herald. "I had been to a few games there, but to be on the floor and to have the experience of that crowd and that atmosphere was really something to see.''
Walker had 10 points Saturday off 3-of-7 shooting.
Ex-Husker on series
Former Husker guard Beau Reid, who hit a game-winning shot against KU back in 1988, will miss the KU-NU series.
"It's still the game people want to go watch. It's still relevant. It's the one time of year you can guarantee that building's going to be electric," Reid told the Lincoln Journal-Star.
Indeed, Saturday's game marked NU's first sellout in 58 games, dating to January of 2008, against ... KU.
"I've got a little nostalgia going into this game, because it definitely signals the end of an era," Reid said. "It's too bad that we're not going to be able to guarantee that we're going to play them from year to year.
Copyright 2018 The Lawrence Journal-World. All rights reserved. This material may not be published, broadcast, rewritten or redistributed. We strive to uphold our values for every story published.