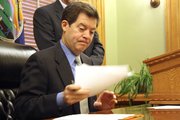 Topeka — Members of a Kansas Senate committee expressed skepticism Friday about an executive order from Gov. Sam Brownback abolishing the parole board, saying it could create a conflict of interest when it comes to choosing between parole eligibility and saving money if prisons are overcrowded.
The parole board's functions would move to the Department of Corrections. Brownback wants the change in effort to save about $500,000 and streamline government operations.
"I don't think this is a really good idea," said Sen. Jean Schodorf, a Wichita Republican. "In a perfect world with the funding, I don't think we would get rid of it."
Acting Secretary Ray Roberts told the committee he would establish an internal group comprised of senior department officials that would review the status inmates who are still eligible for parole. Most inmates in the Kansas system are not eligible because they have set sentences.
"All the decisions we would make would be what is consistent with public safety," Roberts said. "I would not allow decisions to be made on bed space."
But committee members questioned whether the change would create a conflict of interest for the secretary should prisons become overcrowded. They raised concerns about what influence the governor might have on decisions if the choice was to expand prison space or release inmates early to save money.
"I don't think that would happen," said Roberts, who was promoted to secretary after serving as warden at the El Dorado prison. "I would have to talk with the governor's office because that isn't the approach that I want to take."
The committee was told that there were more than 750 inmates in Kansas prisons who were sentenced prior to the state implementing predetermined sentencing guidelines. However, there are close to 400 more that have so-called off-grid sentences for first- and second-degree murders and sexual crimes whose sentences could be determined by the parole board.
Members asked what safeguards would be in place to prevent the department from releasing inmates early and putting public safety at risk.
"You can't predict for every eventuality," Roberts said.
Currently, a three-member parole board is appointed and serves as an independent body to review inmate releases. The members meet once a month to decide cases, with each member going to the state's prisons to conduct investigations before final decisions are made.
Roberts said his staff could absorb the additional work, including providing notice to the public for comment and the families of victims when an inmate is up for parole hearing. He promised that he wouldn't return in future years to ask legislators to increase the department's staffing levels to handle the new duties.
Committee Chairman Tim Owens, an Overland Park Republican, said the panel would continue hearings, perhaps as soon as next week, including testimony from the parole board.
Legislators have 60 days from the time the governor's executive order is presented to take action. If either chamber passes a resolution opposing the measure it is rejected. If not, the order takes effect on July 1.
Copyright 2018 The Associated Press. All rights reserved. This material may not be published, broadcast, rewritten or redistributed. We strive to uphold our values for every story published.