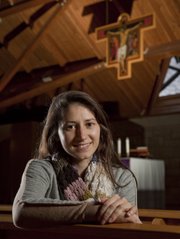 One wouldn't normally associate the word "nun" with "rebel," but Sister Josephine Plazzer, a 23-year-old Catholic nun, considers herself just that.
"I grew up in a liberal parish that believed wearing a habit oppressed women. That actually made wearing a habit seem really attractive to me. I wanted to wear one, and I assumed I would when I became a nun," she said.
However, the religious community she ended up joining, The Apostles of the Interior Life, do not wear habits. Instead, they rely on "providence" — the divinely inspired generosity of other people — to fill their closets.
"Receiving clothes from other people is great because we get to rely on God and receive peoples' gifts with gratitude — to accept life as a gift," Plazzer said.
While the habit is a sign of consecration, an outward symbol of a person's inner commitment, Plazzer dresses the way she does to show her pledge to God. The clothes she puts on every day broadcast her inner ideals.
"I like to dress elegant but simple. Elegance denotes beauty, and simplicity denotes being a creature of God. My style is all about recognizing the beauty that surrounds us and is in us from God," she said.
From a strictly visual perspective, it seems as though Plazzer keeps up with the latest trends. When I met her, she was wearing mid-calf height, brown leather boots with leggings, a pencil skirt that hit just at her knees, a gray cardigan and a scarf to finish off the outfit. However, she is quick to point out that style is not about following the crowd.
"Fashion is very externally focused. Some women present themselves as objects and just follow whatever fashion dictates. Fashion should be about bringing out interior beauty," she said.
And that's exactly what the entire group of The Apostles of the Interior Life strive to do.
"We are The Apostles of the Interior Life. Our focus is on the interior formation of a person."
Plazzer works at the St. Lawrence Catholic Campus Center, 1631 Crescent Road, and her job focuses on helping college students determine their internal identity in God. She works with students as a spiritual director to help them "grow closer to Jesus," leads retreats, visits other churches, and helps students through the process of determining whether or not they are called to the "religious life" — becoming a priest or nun.
Before her junior year of high school when she discovered her calling to become a nun, her dream was to go to college, study politics and international relations and some day work for the United Nations. Instead, she now has a degree in philosophy and is working toward a degree in theology.
"I've always wanted to do something noble with my life. I'm not going to work for the U.N., but my desire for living a noble life is being fulfilled by following God's will."
Copyright 2018 The Lawrence Journal-World. All rights reserved. This material may not be published, broadcast, rewritten or redistributed. We strive to uphold our values for every story published.