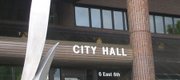 Subscribe to the email edition of Town Talk and we'll deliver you the latest city news and notes every weekday at noon.
News and notes from around town:
•UPDATE: A spokeswoman with Old Navy has confirmed that the company plans to close its Lawrence store, although we still haven't heard a date for when it will cease operations. Here's the statement from Sarah Andrus, a spokeswoman with Old Navy:
"We are constantly evaluating our store fleet to ensure we have the right stores in the right locations to best serve our customers. Unfortunately the decision to close a store is always a difficult one with a number of factors that impact the decision. We are making every effort to help employees find positions at nearby stores and hope our customers will continue to shop us at nearby stores or online."
Here's what we reported this morning:
It seems like an unthinkable proposition: A college town without an Old Navy store. But multiple sources tell me Old Navy will be closing its Lawrence store on South Iowa Street following the holiday season.
A source with knowledge of the conversations says the decision already has been made by Old Navy and its landlord to not continue with the lease. Supposedly, the landlords have secured a smaller, national retail chain to occupy the space. No word yet on the identity of that chain. The property is managed by Inland Western Retail, a real estate investment trust headquartered in suburban Chicago.
A store manager with Old Navy referred my questions about the store's closing to a district manager. The district manager did not return phone calls over a period of several days. Another store employee, when asked whether the store was closing, only responded with "not at the moment."
Part of the speculation going around retail circles in Lawrence is Old Navy is not closing its Lawrence store due to slow sales in the city. Instead, there's been speculation that a lease dispute is at the heart of the matter. That could leave open the possibility that Old Navy would relocate to another space in town. But commercial real estate agents I've talked to indicate there aren't many ready-made spaces for Old Navy to move into, and if Old Navy is looking for new space in Lawrence, they've been doing it quietly. Old Navy is in about 22,000 square feet of space at its current location. The vacant Borders building in downtown is about 20,000 square feet, although it is configured differently. But there is no buzz going around town that Old Navy is looking at the Borders spot.
But I'm sure several Lawrence developers will start figuring out ways to build new space for Old Navy if the company really wants to remain in town. It would be interesting to see if the company would insist on remaining along the South Iowa corridor, or whether it would consider being a pioneer in opening up some other retail areas in town such as Sixth and the South Lawrence Trafficway, 23rd and O'Connell or the Sixth and Wakarusa area near the new Walmart.
As far as an actual closing date for the store, I'm uncertain of that. I don't know if after the holiday season means early January, mid-January or what. (With some people I know, there is always a shopping holiday.) If I hear more, I'll let you know.
• If you end up having to drive out of town to get to an Old Navy, city leaders are at least more confident these days that you won't hit a pothole on your way out of town.
City leaders have put together new numbers that they believe are the best sign yet that the city's renewed emphasis on street maintenance is paying off. Crews through November have patched 10,901 potholes through early November compared to 30,472 potholes patched in 2010.
The city also has a system in which public works employees rate the condition of every street in the city. The city is two-thirds of the way done with its third rating cycle. Back in 2005 when the city first rated the street conditions, 31.5 percent were found to be in the fair to poor range, indicating they likely would have to be rebuilt. In 2009, that number had dropped to 29.8 percent. The number of streets in fair to poor condition currently stands at 22.75 percent. But remember the city still has quite a few more streets to rate, so that number is bound to change in one direction or another.
City commissioners at their Tuesday evening meeting will consider approving the street maintenance plan for 2012. It includes work in several areas of town, including:
Repaving of selected streets north Sixth Street between Tennessee and Iowa streets.
Repaving of selected streets north of East 15th Street between Harper and Kentucky.
Crack sealing of streets south of Clinton Parkway between Iowa Street and Wakarusa Drive.
A rebuilding of Wakarusa Drive near the Bob Billings Parkway intersection.
A repaving and improvements to Sixth Street between Iowa and Monterey Way.
A state project to reconstruct the 23rd Street bridge between Barker and Haskell.
Repaving of neighborhood streets in the Breezedale neighborhood south of 23rd and Massachusetts. While repaving, crews also may install traffic calming devices previously approved by the City Commission.
Microsurfacng of neighborhood streets west of Kasold Drive, east of Wakarusa Drive, north of Bob Billings Parkway and south of West Sixth Street.
A detailed map of all street projects proposed for 2012 can be found here.
• City commissioners also will be asked to consider a major project for Sixth Street in 2013. Commissioners at their Tuesday evening meeting will be presented with a plan to add a left-turn lane on Sixth street at the intersection of Sixth and Iowa streets. The turn lane would be for westbound traffic on Sixth.
The city previously applied for grant funding from KDOT for the $900,000 project. The state said it was supportive of the plans but didn't have money to fund it. City engineers are now asking commissioner to fully fund the project with local dollars.
The city's Public Works Department estimates the new turn lane will reduce the average wait for a motorist wanting to turn left onto Iowa Street from 89 seconds today to 27 seconds after the improvements are completed.
If approved, the city would issue new general obligation debt to fund the project. Design work would begin in 2012, with construction getting under way in 2013.
Copyright 2018 The Lawrence Journal-World. All rights reserved. This material may not be published, broadcast, rewritten or redistributed. We strive to uphold our values for every story published.