Photo Gallery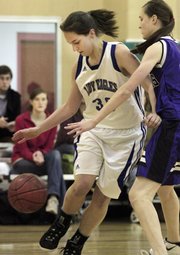 Veritas girls vs. Wichita Homeschool
Both the girls and boys Veritas Christian School basketball teams showed their youth against Wichita Homeschool on Tuesday night.
In the girls match-up, coach Kevin Shelton said visiting Wichita imposed its will by being the aggressor and taking command early, leading to a 50-17 wallop at the Eudora Recreation Center.
"Anything they wanted to do, we let them tonight," Shelton said. "And that's not how we've been playing."
The Eagles (2-4) have had a couple of rough games in a row, and this one was especially disappointing because the coaches and players didn't think they stood up to what the Warriors were doing.
"They played a physical game, and I expected us to play physical back," Shelton said. "I just didn't feel that we did that."
In the second and third quarters combined, Veritas was outscored 25-5 and was dominated on the glass. Five players scored for the Eagles: Brittany Rask led the team with five, Madison Bennett and Ellen Phillips had four and Joy Brooks and Kristen Finger added two.
The Veritas girls team will play next against Olathe Christian at 5:30 p.m. on Saturday in Eudora.
Copyright 2018 The Lawrence Journal-World. All rights reserved. This material may not be published, broadcast, rewritten or redistributed. We strive to uphold our values for every story published.