Photo Gallery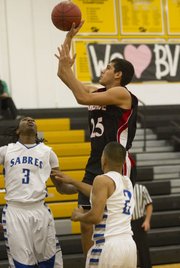 LHS boys vs. Sumner
After back-to-back years of first-round losses at the Blue Valley Shootout, Lawrence High's boys basketball team was elated to get to the winner's bracket with a 59-47 victory over Kansas City (Kan.) Sumner Academy on Thursday night.
Lions coach Mike Lewis said his team was tired of reading its name on the left side of the bracket, where the consolation games are listed.
"We were due to maybe move to the right side," Lewis said with a chuckle.
LHS (2-0) made it there with a fantastic start to the second half. Sumner trailed, 19-17, at the break before Lawrence started rolling in the third.
The Lions came out of the locker room with a designed lob play, executed crisply with a pass from Logan Henrichs to KJ Pritchard, and after Sumner scored a couple of buckets of its own, LHS went on a 13-2 run.
A drive and lay-in by Anthony Buffalomeat gave Lawrence a three-point lead to get it started. Next came two free throws from Buffalomeat, a Pritchard three-pointer, a transition bucket from Jake Mosiman, a Henrichs layup and two more points in the paint from Bryce Montes de Oca.
Lewis said the team's defense gave the Lions a third-quarter edge.
"We just thought if we came out and really zeroed in defensively, it would create some offensive looks for us," he said.
A senior guard, Henrichs said limiting the Sabres to 17 first-half points really fired up the Lions for the second half.
"We just had the mentality we wouldn't lose the game," he said. "Everything we could possibly do, I felt like we tried to do — rebounds, steals, finishing, fouls, anything like that."
Henrichs demonstrated that more than anyone in the second half. After going scoreless in the first 16 minutes, the do-it-all senior finished with eight points, 10 boards and 10 assists, including a perfect pass to Montes de Oca on a two-on-one fast break in the fourth quarter that set up a one-handed slam for the big man.
A sophomore center, Montes de Oca finished with 10 points and eight boards, matching the rebound total of Buffalomeat, who scored eight points. Pritchard led Lawrence with 22 points, going 8-for-15 from the floor with a pair of three-pointers.
Lewis was pleased with the overall team effort.
"Our guys were just aggressive and made some plays," the coach said.
Because they did, tonight they can play in prime time in the semifinals, where they felt they deserved to be.
Said Henrichs: "It feels good to be on this side of the bracket."
The Lions at 8:30 tonight will face host Blue Valley, which defeated Ralston, Neb., 50-43, Thursday night.
In other first-round games at the shootout, Lee's Summit (Mo.) defeated Olathe North, 66-61, and Olathe Northwest hammered Oak Park (Mo.), 61-40.
Copyright 2018 The Lawrence Journal-World. All rights reserved. This material may not be published, broadcast, rewritten or redistributed. We strive to uphold our values for every story published.