If you want a coat
• The Scotch Share the Warmth Coat Giveaway continues today until 4 p.m. and on Saturday, from 9 a.m. to noon.
• There are no requirements for people looking for a coat.
• For more information, call 843-0639.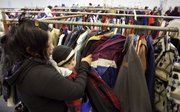 Pick a color, pick a size. Frilly, puffy, fuzzy or lined with velvet.
Just about any type of coat imaginable — about 4,300 in all — filled Suite 104 in the I-70 Business Center Friday for the 25th annual Scotch Share the Warmth Coat Giveaway assisted by The Salvation Army.
"It's very nice for people to donate stuff and for us to be able to stay warm through the winter," said Julia Treaster, Lawrence, who was looking for coats for her two children, Miles, 5, and Kristen, 3.
With kids that young, growing out of last year's coats happens "very quick," Treaster said.
Treaster and her children waited about an hour and a half for their opportunity to look around, which is a typical wait time, said Susan Dahlberg, one of the event organizers.
"It's like this every year," said Dahlberg, as she glanced at the long line of people outside. Although doors opened at 9 a.m., Dahlberg said people reported being in line as early as 5 a.m.
Scotch Fabric Care collects the used coats, cleans them and delivers them for the event.
"It's a way to give back to the community," said Scott Shmalberg, president at Scotch.
Shmalberg estimates that 3,000 of the coats will be handed out, and the rest will be donated to area social service agencies.
Copyright 2018 The Lawrence Journal-World. All rights reserved. This material may not be published, broadcast, rewritten or redistributed. We strive to uphold our values for every story published.