First team
Clint Chapman, Baldwin senior defender — a dynamic part of the Bulldogs' defense, which produced 11 shutouts during their 14-4-1 season that included a Class 4A regional title.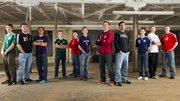 Tanner Click, Lawrence senior goalkeeper — eight shutouts, 58 saves and a goals-against average of 0.84 for the Lions' regional championship team.
Louis Joslyn, Baldwin senior midfielder/forward — between his 16 assists and 12 goals, accounted for nearly 60 percent of Baldwin's offensive production.
Jack Lopez, Mill Valley sophomore midfielder — set the tempo with his ball skills for the 11-6-1 Jaguars, and finished with nine goals and four assists.
Justin Riley, Lawrence junior midfielder — Lawrence's leader and co-captain started every game and helped the Lions control the midfield, while limiting opponents' chances.
Matt Saathoff, Tonganoxie junior forward — led the Chieftains in scoring each of the past three seasons (including 14 in 2011), won two overtime games for THS this year on direct-kick goals and led team with nine assists.
Zack Thompson, Free State senior midfielder — a crucial presence in the midfield for the Firebirds (9-7-2), Thompson's passing helped set up the FSHS offense.
Marcus Titterington, Tonganoxie senior defender — the Chieftains' middle defender, known for challenging everything that comes his way, helped THS finish 11-7-1 and win a 4A regional championship.
Jake Walter, Free State senior forward — the Firebirds' go-to weapon on offense led the team with 20 goals in 18 games.
John Williams, De Soto senior midfielder — renowned for his defense after three seasons of playing in the back for DHS, moved to midfield and continued to stymie opponents while also producing two goals and three assists.
Player of the year
Lawrence senior Tanner Click
Praised by LHS coach Mike Murphy for his work ethic, Click has good hands and instincts. His focused and aggressive approach helped him make numerous game-changing saves in Lawrence's regional championship season. Kept the Lions in every game they played.
Coach of the year
Mike Murphy, Lawrence
After starting the season 2-6-1, Murphy directed the Lions to quite a turnaround. LHS won six of its next nine games, only losing once in that stretch. Lawrence won a regional championship by defeating rival Free State before being eliminated by Olathe South, eventual state runner-up.
Honorable mention
(alphabetical, by school)
Caleb Michels, Baldwin; Dustin Seibolt, De Soto; Hunter Peirce, Free State; Zach Wustefeld, Lawrence; Tony Vitale, Riley Vomhof, Mill Valley; Austin Johanning, Addison Jones, Perry-Lecompton; Evan Stilgenbauer, Tonganoxie.
Copyright 2018 The Lawrence Journal-World. All rights reserved. This material may not be published, broadcast, rewritten or redistributed. We strive to uphold our values for every story published.