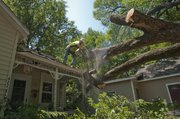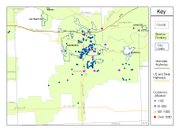 Kansas weather updates, via Twitter
9:29 p.m. update
Nearly 24 hours after a storm worked its way through Douglas County, more than 100 county residents are still without power. The outages are scattered throughout the area, and restoration will continue on a neighborhood or individual basis.
4:15 p.m. update
As Friday wraps up, more than 600 Douglas County Westar Energy customers are still without power.
The outages cover the entirety of the county and are in very small clusters. Westar said most of the power restoration that remains will be on either a neighborhood or individual house basis, which is why it will take so long to complete.
Fewer than a dozen Kansas City Power & Light customers in Douglas County, mostly in the far south areas, were still without power as of 4 p.m.
2:45 p.m. update
Among sites still without power: The Clinton Lake Softball Complex and the Youth Sports Complex, both at the southwestern edge of Lawrence.
Lawrence Parks and Recreation sent out an email alert Friday afternoon, noting that overnight storms had left both sites without power. Friday night's adult softball games at the Clinton Lake Softball Complex have been canceled; while kickball games that had been scheduled for Youth Sports Complex had been relocated to Holcom Park.
2:06 p.m. update
As of just after 2 p.m. on Friday, the number of power outages in Douglas County has declined below 1,000 for the first time.
Westar says 932 customers are without power, though some of those still without power may still not have power until Saturday. Westar says the hardest hit areas have been Leavenworth, Lawrence, Shawnee and Topeka.
Leavenworth residents should all have power back on Friday, Lawrence and Shawnee should have power back by Saturday and Topeka should have power back on Sunday.
12:20 p.m. update
Westar crews are working around Lawrence to try and get power restored. Shortly after 11:30, about 300 customers got their power back.
As of 12:15 p.m., 1,295 customers were still without power in Douglas County. They're spread across the county, though there are clumps along and south of 23rd Street.
In addition to Westar customers, about 100 KCP&L; customers in Douglas County are also without power at this time.
Check back for updates.
11 a.m. update
As of 11 a.m., the number of Westar Customers without power remains at more than 1700 — 1,723 to be exact.
A Westar Energy spokesman said on Twitter this morning that it may be late Saturday before all Lawrence residents regain power.
And the numbers appear to going in the wrong direction. But, according to Westar crews in North Lawrence, crews are being brought in from other areas to help restore power.
Also, the City of Lawrence on Friday issued a statement with options residents have for disposing of limbs and other storm-related debris.
According to the city:
"The city's Wood Recovery and Composting Facility, located at 1420 E 11th Street (two blocks east of 11th and Haskell), will be open on Saturday, August 20th from 10 a.m. to 4 p.m. to accept brush or tree limbs. The cost for disposal is $5 per truckload."
Residents can also have debris picked up during Monday's yard waste collection, if it can be put into a compostable bag or some cart. Large limbs, "not to exceed five-feet in length or 18-inches in diameter and not weighing over 65 pounds, can be put into bundles and placed out with regular weekly pick-ups.
Check back to LJWorld.com for updates.
9:26 a.m. update
More than 1,500 Douglas County Westar Energy customers are still without power after last night's storms.
Nearly 1.5" of rain were reported in Lawrence from Thursday through Friday morning.
All around Lawrence, tree limbs were down, likely a major cause of the power outages. While the outages are scattered across Douglas County, there's a heavy band of outages stretching from the vicinity of 33rd and Iowa northeast toward 15th and Haskell.
There's no immediate word on when power would be restored.
Check back to LJWorld.com for updates.
Copyright 2018 The Lawrence Journal-World. All rights reserved. This material may not be published, broadcast, rewritten or redistributed. We strive to uphold our values for every story published.