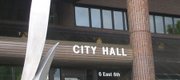 Subscribe to the email edition of Town Talk and we'll deliver you the latest city news and notes every weekday at noon.
News and notes from around town: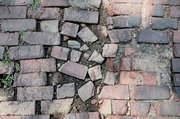 • Perhaps it is time for a roadtrip to learn more about some roads. In particular, some East Lawrence residents are suggesting the city study a model used by the city of Holton to rehabilitate brick streets. As we previously reported, the city auditor has recommended that the city develop a policy for brick streets. In other words, do we keep them or do we replace them? Some of the worst rated streets in the city are brick streets that haven't had any work done to them for decades. (I once noted in an article, you know a street is in bad condition when its maintenance plan includes a Weed Eater.) Well, longtime East Lawrence leader K.T. Walsh came to the City Commission with a plan, or at least a bit of one. She suggests the city study what is going on in Holton, a pretty little town about 30 miles north of Topeka. The community has about seven miles of brick streets, and it has been replacing about two blocks per summer. The way it replaces them comes with a twist, though. The city hires eight youths each summer to clean and lay the bricks. Of course, there are adults working on the project too (there's usually concrete work that has to be done before the brick-laying) but it looks like the youth are the main force behind the actual brick laying. It looks like it saves on some cost and serves as a good vocational program for some kids. (They ought to hire 11, and then it would serve as a good off-season conditioning program for the football team. Think of the fun. Teach the band how to play Brick House, call the defense The Brick Wall and make the cheerleaders ride around in wheelbarrows after each touchdown. What? That would be fun.) The kids lay about 50 linear feet of bricks per day, according to the city's website. Their record is 78 feet in one day, although the site notes: "That is when everything is just right, and of course, the kids are motivated. Sometimes that is a full-time job in itself." What I don't know about the Holton program is how much it costs. Lawrence's reluctance with rehabilitating brick streets is the upfront cost. City Manager David Corliss estimates it can be three times more expensive than standard street construction. Fans of brick streets, though, say the maintenance costs for brick streets after they are built are quite a bit less. Corliss has said he wants to study the issue. He had mentioned that perhaps the city could create a system in which it would remove many of its brick streets that run east/west and use those bricks to rehabilitate the brick streets that run north/south. East Lawrence folks may not like that idea. Walsh said instead that the city should investigate finding bricks from other cities. Osawatomie, for example, is currently removing many of its brick streets and replacing them with concrete or asphalt. Bricks and windows usually don't go well together, but perhaps this is a window of opportunity. (Yeah, that's a lame ending. But I'm still concentrating on the football thing.)
• One way the city has paid for brick street projects in the past is through a state/federal program called Transportation Enhancement Grants. In addition to brick streets, Lawrence has used the grant to help restore the Union Pacific Depot, build the Burroughs Creek Rail Trail, the Clinton Parkway Shared-Use Path, and other projects. But it looks like that will be the case no more. The state has announced funding concerns, especially at the federal level, means they won't accept any grant applications for the 2013 and 2014 fiscal years. City Manager David Corliss said he's not planning for the grant program to return. That may be a blow to the efforts of a group of Lawrence residents to restore the Santa Fe Depot in East Lawrence. A Transportation Enhancement grant was one of the leading candidates to fund the several hundred thousand dollars in repairs needed to the building at Seventh and New Jersey streets.
• Perhaps folks can meditate on how to fund such projects in the future. A new yoga studio has opened on the west side of town. Westside Yoga has set up shop at Bob Billings Parkway and Wakarusa Drive in the same building as Natural Medical Care. Three longtime yoga practitioners — Anne Bruce, Gopi Sandal and Rita Stucky — have teamed up to open the business. The business offers 60- and 90-minute classes during various times of the day. People can walk in or sign up ahead of time at the company's website. The trio believe the popularity of yoga is picking up steam in Lawrence, and they noticed there weren't many studios on the west side of town.
"It really helps relieve pain and it frees your mind too," Bruce said of the various forms of yoga the business teaches. "It has a very calming and centering effect."
Maybe the company should have started Capitol Hill Yoga. Breathe in Mr. Boehner. Breathe out Mr. Reid. Or how about Statehouse Yoga? Stretch Mr. Brownback. Bhakti, Mr. Davis. Bhakti. I could do this all day (but I don't think I would get paid for it).
Copyright 2018 The Lawrence Journal-World. All rights reserved. This material may not be published, broadcast, rewritten or redistributed. We strive to uphold our values for every story published.