Scott Braden
Raised: In Lawrence. He is Lawrence High School's 1978 class president, a job that still comes with the responsibility of helping plan class reunions.
Public Service: For more than 15 years, Braden has volunteered with local Cub and Boy Scout troops. From 2005 until 2011 he was the Scoutmaster of Pelathe District, Troop 55. It was a volunteer job that had him working 20 to 30 hours a week.
While no longer a scoutmaster, Braden still continues working with the Boy Scouts organization at the district level.
One of his favorite camping trips: A two-week excursion in the mountain wilderness of Philmont Scout Ranch near Cimarron, New Mexico.
Occupation: Regional sales manager at Commerce Bank.
Family: Wife Cammie Braden and two sons Drew and James.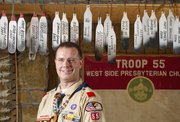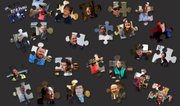 A special section honoring your neighbors, unsung heroes and people who do the little things that just make life better in Lawrence.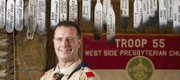 Read about the honorees for the 2011 Only in Lawrence: "Community" category.
No doubt, Scott Braden has positively influenced the lives of countless Boy Scouts in his six years as Scoutmaster of Lawrence's Troop 55.
But there are two names that are mentioned first — Scott Ollila and his father, Ken — when Scouting parents talk about Braden's dedication.
After years of Scouting, Scott Ollila completed the final project required to become an Eagle Scout in summer 2007.
The only step that remained was to hold a Court of Honor ceremony, which would officially bestow the rank of Eagle upon Scott.
The ceremony was planned for when Scott returned from college that winter. But in December, Ken was diagnosed with a brain tumor.
Lynn Ollila, Ken's wife, recognized her husband didn't have much time left. She called Braden while he was on a business trip in Garden City.
Technically, Scott wouldn't be an Eagle Scout until a Court of Honor was held. Could Braden, as Scoutmaster, pull together a ceremony quickly, she asked.
"I knew one of (Ken's) regrets was that we never had Scott's Court of Honor," Lynn said.
Braden was a friend of Ken's, and with two sons of his own, he also knew well how Scouting bonds a father and son.
Braden offered to drive through the night so he could be there the next day. Lynn said that wouldn't be necessary.
Two days later, Braden showed up at the door with a box of supplies — printed programs, pins for the parents and an Eagle Scout badge. Much of it, Braden had ordered as soon as Scott completed his final project for Eagle Scout.
"He had put it in a desk drawer and was waiting for us to call him," Lynn said.
About a dozen people gathered at the Ollilas' home for the ceremony.
Ken watched from his hospital bed. At that point, he wasn't talking, and Lynn wasn't sure just how much he was comprehending. But when Braden presented Scott Ollila as an Eagle Scout, Ken started clapping. The rest of the room was in tears.
Four days later, Ken died.
Pinnacle achievement
Braden, who said good-bye to his friend after the ceremony, believes Ken was waiting to see his son become an Eagle Scout.
"To achieve the rank of Eagle, it is the pinnacle for that father and son. So to share that moment before he died, they completed the trail to Eagle together," Braden said.
Lynn doubts that her son would have gone through with the Court of Honor ceremony without his father.
"It was just amazing that (Braden) was willing to do that for our family. And, it meant so much to my husband and son and all the rest of the family members who had watched them go through the scouting program," Ollila said.
That is just one example of how Braden, the first honoree of the Only in Lawrence Community Award, has gone "above and beyond" the duties of a Scoutmaster, Scouting mom Tracy Kihm said.
At the end of last year, Braden retired as Scoutmaster of Troop 55, which has 60 to 70 Scouts. During his six years as Scoutmaster, Braden averaged 20 to 30 volunteer hours a week.
"I'm just a coordinator of resources," Braden said.
He had planned to be Scoutmaster for just a year, Kihm said. When Braden was about to retire the first time, the troop took a vote and asked him to stay on.
A believer in letting the boys be the ones to lead so they can learn from their mistakes, Braden agreed to continue.
"I'm always impressed with the way he works with the boys and that he has really made the boys responsible. He's taught them a lot about leadership," Kihm said.
Strong dedication
Braden is a Lawrence native who was the 1978 class president of Lawrence High School. After graduating from Kansas University, he began a career in banking. Today he is a regional sales manager at Commerce Bank.
Braden was drawn to Scouting when his oldest son, Andrew, became a Cub Scout in first grade. Andrew is now an Airman 1st Class in the Kansas Air National Guard.
Along the way, his younger son, James, and wife, Cammie, became involved in the organization.
For 10 days every summer, the family spends their vacation at Bartle Boy Scout Camp in Osceola, Mo.
"The logistics of taking 75 people to summer camp is not easy," Braden said. "We get back in July and start planning for it in August."
Once there, it's a 24-hour-a-day job.
Braden's Scouting trips extend far beyond Camp Bartle. Jim Peterson, another Scout leader, has camped with Braden when the temperature was as low as zero and as high as 105.
"He is a fun guy to be around at a campout. I always enjoy sitting around the campfire with him," Peterson said.
Braden has taken Scouts backpacking, rappelling, white water rafting, deep sea fishing and snorkeling. During those trips, Braden watched as Scouts successfully took on challenges they didn't think they could complete. And, that's what makes all those hours of volunteering worth it, he said.
"To see the look on a boy's face, that sense of accomplishment, when they achieve something they don't think they are capable of, it is tremendous," he said.
Copyright 2018 The Lawrence Journal-World. All rights reserved. This material may not be published, broadcast, rewritten or redistributed. We strive to uphold our values for every story published.