Doug Hitt
Occupation: physical therapist for Douglas County Visiting Nurses, Rehabilitation and Hospice Care
Early inspiration: "Dream of the Earth," by Thomas Berry
Earth literacy is: "a recognition of the continuity of self and place and all the beings in a place, and not only in the present, but over the span of geologic time."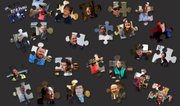 A special section honoring your neighbors, unsung heroes and people who do the little things that just make life better in Lawrence.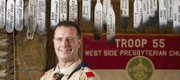 Read about the honorees for the 2011 Only in Lawrence: "Community" category.
Longtime Lawrence resident Doug Hitt is a leader in a small but growing community of people devoted to earth literacy.
"Earth literacy describes my approach to what used to be called environmentalism," Hitt says. "Other names are Deep Ecology and Eco Literacy."
To explain, he shares a story about how he went outside on a recent morning to give his dog fresh water, and he heard some boreal chorus frogs singing in a pond two blocks from his house.
"They're going like crazy this time of year," he says. "Frogs were the first tetrapods. They came up from the lungfish. So the second I hear their song, I'm aware that I'm linked to them ancestrally, in an evolutionary sense, and that sense isn't just metaphorical.
"So earth literacy, then, is a recognition of the continuity of self and place and all the beings in a place, and not only in the present, but over the span of geologic time."
What folks typically think of environmentalism, Hitt says, tends to be advocacy for the protection and preservation of one's surroundings. For him, this is an incomplete approach.
"'Surroundings' is much too cold," he says. "We can't inspire right ecological behavior by an obligation to our surroundings."
Earth literacy is about understanding that humans are inextricably connected to all life and energy on earth.
"If you don't believe it, put a plastic bag over your head and you'll find out real quick that you as a freestanding individual is a fiction," he says.
Hitt started on his path toward earth literacy shortly after he graduated from Kansas University in spring 1981 with a degree in physical therapy. He moved to the Appalachian Mountains where he would regularly take hikes. That spring, he saw flowers unlike any he'd seen in Kansas. His favorites were the trailing arbutus, with flowers of a "very shy, creamy white that hides under low lying foliage."
This, Hitt says, was his "awakening to a new ecological environment."
A short time later, he read "Dream of the Earth," by Thomas Berry, and he had an "Aha!" moment.
To this day, he carries with him a quote from that book: "It's all a question of story. We are in trouble just now because we do not have a good story. We are in between stories. The old story, the account of how the world came to be and how we fit into it, is no longer effective. Yet we have not yet learned the new story."
"When I read that," he says, "it was like something clicked for me. I was much less lonely."
He read more books, and studied ecological materials to get a better sense of the earth's story and how he fit into it. He received a master's degree in earth literacy from Saint-Mary-of-the-Woods College in Indiana.
He moved back to Lawrence, and about eight years ago he established a deep-ecology practice group with 15 members.
"We set off with the aim of immersing ourselves in this new story," he says. "Part of our work is learning that story. Also to act on the reality of that story."
Several years ago, for example, they decided to study energy. They figured the best place to start, from an earth literacy sense, was the sun.
"So we decided to study energy in that large sense, how earth life systems flourish under current solar energy," he says. "That grounds us in a larger picture of how this planet has operated for four billion years."
Their inquiry led them to an examination of their use of fossil fuels, "which is ancient solar energy." The members of Hitt's practice group gathered all the data on how much energy they used in their households for a recent year.
Then, at their monthly meetings, they shared practical ideas about how to reduce energy use in their homes.
At the end of two years, they reduced their collective electricity usage by 25 percent.
"And that was the low-hanging fruit," Hitt says. "We weren't spending thousands to replace windows and things like that."
Though members have come and gone from his practice group over the years, it has remained at 15 members. "A group of 15 is about right size," he says. "So when people hear of us by word of mouth, I try to start another group."
So far, he's established two groups in Lawrence, and he's getting close to starting another.
For a living, Hitt works as a physical therapist for Douglas County Visiting Nurses, Rehabilitation and Hospice Care, 200 Maine.
"I have a motivation to see the health of my eco surroundings," he says. "I have a similar passion to see my fellow humans, especially mature humans, to be healthy and mobile."
Copyright 2018 The Lawrence Journal-World. All rights reserved. This material may not be published, broadcast, rewritten or redistributed. We strive to uphold our values for every story published.