Wanna feel like a princess today? What about an almost princess? It's actually not that hard to get a little taste of Kate Middleton's soon-to-be royal lifestyle as we speed up to the April 29 wedding between Middleton and Britain's Prince William.
You could pull up any one of dozens of websites and articles devoted to the royal wedding for a peek into Middleton's life.
You could find a knock-off of that beautiful sapphire-colored Issa London sheath Middleton wore to announce her engagement. (It might be hard to find the real thing — it sold out within 24 hours of the press blitz surrounding the engagement.)
You could get your nails coated in a sparkly, grayish-blue shade called "No More Waity, Katie."
Or you could just treat yourself like a princess at one of Lawrence's salons and spas.
We asked these professional pamperers exactly what treatments they'd suggest to Middleton in the waning hours before her big day.
The response? It's easy to feel like royalty today, for Mother's Day, graduation or any other big event, even if you don't have millions around the globe watching the biggest day of your life.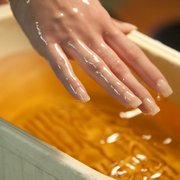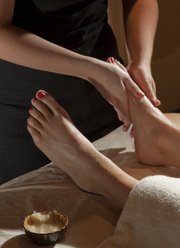 Exfoliation and relaxation
Every salon and spa we talked with recommended exfoliation to help Middleton show off that English rose skin during her big close-up.
Mark Chapman, owner and stylist of Lada Salon & Spa, 4931 W. Sixth St., says that while he'd love to spend a full day working on the would-be princess, if she were short on time, he'd go with a treatment that combines exfoliation with massage and aromatherapy for one blissful, multi-tasking hour.
"I think that Caribbean Therapy Body Treatment would be amazing for her. It's exfoliation, moisturization with all the Caribbean scents that Aveda has," says Chapman, who adds that 80 percent of his clients have told him he has to watch the royal wedding. "It would be all about aromatherapy in that treatment, and (with) aromatherapy, the cause and effect would be relaxation."
Facial perfection
That exfoliation and massage extends to the face, where Julie Toplikar, front desk coordinator at Salon Di Marco & Day Spa, 733 Mass., recommends that any wanna-be princess go for the gloFacial. The facial uses pumpkin enzymes to sloth off old skin and seaweed to calm and brighten.
Once the skin is prepared, Toplikar has another suggestion to keep things smooth.
"In terms of waxing, if I were going to be on TV, I would want to do an eyebrow wax, nose wax," she says, laughing.
Fingers fit for a royal ring
Ashley Butell, manager and hair stylist at Rejuvené Salon and Spa, 13 E. Eighth St., recommends that anyone wanting princess-worthy hands not only get them exfoliated, but also polished with the sharpest, longest-lasting sheen available.
"We do the Axxium, which is a new big thing that's out right now. It's that gel lacquer. The Shellac is the Creative (Nail Design) version, and the Axxium is by OPI," Butell says. "It lasts about two weeks and makes your nails look like glass — hard and shiny and perfect."
Butell says she thinks the future princess might appreciate the long wear because she probably wouldn't want to fuss with constantly getting her nails paparazzi-ready.
"That's kind of more of what she might want because she's kind of a simple kind of girl," she says. "I think she's just like that classic, kind of simple beauty. Not understated, but not like 'Hey!' — screaming at everyone."
Because these suggestions are all treatments any Lawrence woman can gift herself, Toplikar says they go perfectly with the fairy tale being written for the commoner-bride.
"She's extremely beautiful, and her style is really great. I feel like she oozes poise and style and class," she says. "She's very naturally beautiful, (but) she has that look about her that says 'everyday woman' like anybody can go and marry a prince."
Copyright 2018 The Lawrence Journal-World. All rights reserved. This material may not be published, broadcast, rewritten or redistributed. We strive to uphold our values for every story published.