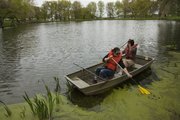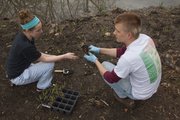 A centennial celebration on Saturday at Potter Lake will mark the lake's history and highlight the work that's been done on the Kansas University campus landmark in recent years.
"It's turned around, and we get a lot of compliments now," said Matt Nahrstedt, a KU senior from St. Peter's, Mo., who is president of the Potter Lake Project.
That project involves students who have worked to improve the lake and its surroundings in a variety of ways, including helping to secure funding for a dredging project that Nahrstedt said was much needed.
The students will join other members of the community at the centennial celebration, scheduled from 2 p.m. to 5 p.m. Saturday at the lake.
Two bands are scheduled to perform. KU Chancellor Bernadette Gray-Little is scheduled to speak, and the event will involve other presentations on the history and traditions associated with the lake.
In case of inclement weather, the event will move inside to the Hawk's Nest on the first floor of the Kansas Union.
The public is encouraged to come, Nahrstedt said.
About three years ago, when the project began, the lake was covered with green plants, and an oxygen-starved environment was leading to the death of fish in the lake, he said.
In addition to the dredging project, other efforts, such as the addition of wetland plants around storm drains, have helped address some of the runoff issues the lake was facing, said Scott Campbell, associate director for the Kansas Biological Survey.
The Kansas Biological Survey has helped the students with some of their work on the lake, he said. Still, even with the dredging and other efforts, plant life could come back to the lake.
"We're all anxious to see how Potter Lake responds to this work that's been done," Campbell said. "We don't know if it's going to have an immediate effect on the plant growth."
That's because of the residual amounts of phosphorus from fertilizers that have run into the lake over time, he said. That could fuel more plant growth.
Still, Campbell said, the lake is improved from a few years ago, and he said he would be surprised to see any significant fish kills at the lake after the recent efforts to improve it.
The Potter Lake Project would like to see more lighting, trash cans and recycling bins, and a new wheelchair-accessible path at the lake, Nahrstedt said.
Copyright 2018 The Lawrence Journal-World. All rights reserved. This material may not be published, broadcast, rewritten or redistributed. We strive to uphold our values for every story published.