Photo Gallery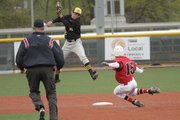 LHS baseball vs. Shawnee Mission West
Lawrence High baseball coach Brad Stoll wouldn't let his players talk about the cold weather on Tuesday afternoon.
"Boys, it's not cold," Stoll told his players in pregame. "End of story."
The Lions had plenty of other things to talk about during their 9-3 victory against Shawnee Mission West at LHS.
Most importantly, the victory put the Lions (6-5) in sole possession of first place in the Sunflower League. The Vikings and Lions both entered 4-0 in league play.
"That's the No. 5 team in the state and traditionally one of the better programs around," Stoll said. "To come out and play like we the way we did, I was really proud of our guys."
While starting pitcher Garrett Cleavinger was holding the Vikings hitless through three innings, the Lions tallied four runs — three in the second and one in the third.
In the top of the fourth, Cleavinger struggled.
He walked three batters and allowed three runs.
The Vikings (7-2) wouldn't score again.
Stoll said that he thought Cleavinger's pitches in the fourth inning were sound, but he wasn't attacking hitters early in the count.
"I'll say this — he was challenged by coach Brandon Johnson, and he responded," Stoll said, smiling.
Freshman catcher Drew Green, making his first high school start, plated two Lions with a single in the fifth inning.
In his first at-bat of the season Saturday against Blue Springs, Mo., Green struck out looking.
"I was a little upset. I was nervous," Green said. "But that kind of got me ready for today. I felt like I could take on anything. I was ready."
Green said he didn't know he was getting the start until batting practice. He texted his dad to come out to the game.
"For a 15-year-kid, I think he's going to be really special," Stoll said. "I was really proud of him in his first varsity start."
Senior Aaron Gile continued to hit the ball hard, picking up three hits, plus an RBI in the sixth inning.
Gile said he wasn't affected by the cold weather and remained confident at the plate.
Next up for the Lions is a matchup with Shawnee Mission East at 4:30 p.m. Thursday at Johnson County 3&2.
Copyright 2018 The Lawrence Journal-World. All rights reserved. This material may not be published, broadcast, rewritten or redistributed. We strive to uphold our values for every story published.