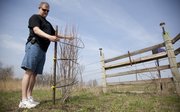 Tomato staking and caging has been a battle nearly every year that I garden, but a simple new staking system — the tomato lasso — may put an end to my struggles.
Keeping tomato plants off the ground is important for disease control and preventing early fruit decay from soil contact. Many gardeners use tomato cages commonly available from many garden centers. Some gardeners make their own from fencing.
If you have played around with cages, you know the short cages will only hold a tomato plant for half the season before falling over with the weight of the plant. The few small tomato cages still in my collection are now reserved for pepper plants only. Larger, heavier duty cages do a better job of supporting plants. They are, however, more expensive and take up considerably more storage space.
So, when Scott Clabaugh told me had a fix for all of my tomato cage woes, I enthusiastically asked for elaboration.
Like myself, Clabaugh, of rural Oskaloosa, was tired of wrangling cages. He shares garden space with his father, who has always used cages on their tomato plants.
"Last year, Dad went out of town and we didn't get the cages on soon enough. It was almost impossible to tuck the plants in without breaking stems," he says. "I knew there had to be a better way to do it."
That experience led Clabaugh to toy around with stakes and cables and clips before creating something that worked well.
Clabaugh's contraption is basically a piece of cable looped through a modified electric fence insulator. The loop of the cable creates the "lasso."
"With this, you just install a t-post," Clabaugh says. "Then I would use two or three lassos per plant. You just clip them on when you need them and clip them off when you are done. No cages to untangle in the fall, either."
T-posts are commonly used, inexpensive steel fence posts. When viewed from the end, the length of the post is shaped like the letter T. Also, there are several different styles of electric fence insulators available, but Clabaugh uses one made for attachment to t-posts. Clabaugh's choice of insulators also has a clip that allows for easy adjustment of the cable.
"If the plant grows outside the lasso or you need to adjust it, you just unwrap it and go right back around," Clabaugh says as clips and unclips a lasso from the t-post. Since his tomato plants are still small, he models the lassos on a hibiscus, and I start envisioning false indigo lassos and other uses.
Clabaugh also seals the ends of tomato lasso cables to keep them from slipping through the insulators.
Storage became another topic of discussion. Clabaugh has his inventory of lassos easily hanging in the garage, with a short stack of t-posts outside. I thought of my tangled pile of tomato cages at home, mangled with remnants of tomato plants of past years.
"I tried using rebar (another type of steel bar), but it wasn't strong enough to hold the tomato plants up," Clabaugh says. "I also tried different kinds of cables and played around with creating a mold for a plastic clip, but this system really worked the best."
Another hit for me was durability.
"These things should last 50 years or more, except for maybe the plastic clip," says Clabaugh. "Those can be replaced pretty easy."
Clabaugh's already-assembled tomato lassos are for sale for $2 each and can be acquired by contacting him at swclabaugh@yahoo.com. Questions about the tomato lasso can also be directed to him at that address.
I hope tomato lassos help me do a little less cage wrangling.
Copyright 2018 The Lawrence Journal-World. All rights reserved. This material may not be published, broadcast, rewritten or redistributed. We strive to uphold our values for every story published.