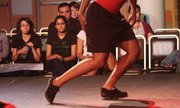 There was a mix of culture, moves, music and personality Wednesday night as Kansas University students took to the floor for the fourth annual KU's Best Dance Crew competition.
Student Union Activities, the sponsoring organization, put on the event in the Kansas Union Ballroom, which was half full by the time the first crew walked out on the stage.
"The turnout is better than last year," event coordinator Sara Miller said. "I watched rehearsals, so I got to see how exciting it's going to be. It was good."
Four groups registered to compete, and each brought something unique to the event.
Unity, a crew consisting of only women, showcased smooth, planned choreography. The three men who comprised K.I.O.S. drew applause from the crowd with their popping, tutting and breakdancing. Defending champions Jeeva and newcomers Naachformers each delivered a fusion of different styles during their performances.
When all was said and done, only one group could walk away with the title of KU's Best Dance Crew, which included a $500 prize.
The audience picked the winner by standing under the crews' signs, which hung in designated corners of the ballroom. After two crews were eliminated and the dejected chose the best of the finalists, Naachformers were crowned the winners. It was a surprise dethroning considering the crew had only been practicing for a week.
"We are ecstatic," Mahmood Khan said after the results were announced. "It was just crazy."
Khan will get to go out on top, as the KU senior is set to graduate in May. Crew member and KU junior Arooj Khan admitted she was nervous, but said she looks forward to the opportunity to defend the title going forward.
"It was an amazing experience," she said amid congratulations from friends. "I'm definitely doing this next year."
Copyright 2018 The Lawrence Journal-World. All rights reserved. This material may not be published, broadcast, rewritten or redistributed. We strive to uphold our values for every story published.