Photo Gallery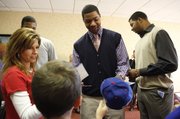 2011 Kansas basketball banquet
Kansas University senior guard Tyrel Reed was named winner of the "Danny Manning Mr. Jayhawk Award" at the conclusion of Monday's basketball banquet at the Holidome.
Burlington native Reed received a standing ovation from a sellout crowd of 600 after accepting the trophy that goes to the player who best represents KU both on and off the court.
"This is an amazing award," said Reed, the winningest player in KU history (132 victories). "When I grew up wanting to play for this university and just have the opportunity to wear the Crimson and Blue for four years ... it's been a blessing and a dream come true.
"I think everyone on this team is deserving of an award like that," Reed added. "I'm so proud of our seniors — Brady (Morningstar) and Mario (Little). They exemplify everything that this program stands for, and I am so proud of them as well. I would also like to thank all my teammates. It's been an amazing career and an amazing ride this year."
The banquet featured a short greeting from KU athletic director Sheahon Zenger, who told the fans to "enjoy each and every moment. There are few programs like this in the country. Embrace each and every game, every season."
He added that, "we have the finest coach in the country."
That coach, Bill Self, praised his players for a 35-3 season that included a school-record seventh straight Big 12 title and eighth Big 12 postseason title. The team also set the school homecourt win streak mark (69 games) and reached the NCAA Tournament's Elite Eight.
"When you stop and think about this team, and particularly the seniors, and what they have accomplished is mind-boggling," Self said. "Brady Morningstar — 165 and 22 (counting red-shirt year); Tyrel Reed — 132 and 17; and Rio (Mario Little) in his three years was 95 and 14. That's an unprecedented thing. To think that where a lot of people projected this group to finish — anywhere from second to fifth in our league — to think the level that these guys performed at all year long, spoiled us. In my opinion, we had the best team in America."
Self admitted, "the last two weeks have sucked (since losing to VCU). When you try hard and invest in something, it hurts. Beginning tonight, it's over (in looking to new season)."
Self told the fans: "Our goal will always be to cut down the nets on a Monday night in April. It didn't happen this year, but I guarantee you it will happen again."
Copyright 2018 The Lawrence Journal-World. All rights reserved. This material may not be published, broadcast, rewritten or redistributed. We strive to uphold our values for every story published.