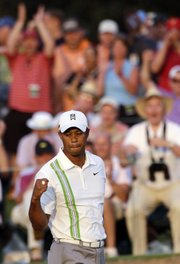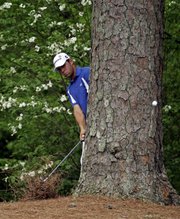 Augusta, Ga. — Rory McIlroy may be the next big thing in golf, and Jason Day and Rickie Fowler certainly have the look of winners. It was fun watching the precocious ones treat par with such utter contempt at Augusta National.
But before we get ahead of ourselves and declare the Eldrick Era over, let's wait and see how the 75th Masters pans out.
Barely inside the cut line after seven holes, Tiger Woods sent roars cascading through the pines late in the day Friday, playing the last 11 holes in a scintillating 7-under par. He shot a nine-birdie 66 and vaulted into a tie for third place going into the weekend.
McIlroy of Northern Ireland shot a 69 and was in the lead at 10-under 134. Day of Australia fired a 64, the low round of the tournament, and was in second at 136.
Woods, 35, looking for his first victory in 19 months and his first major championship title since the 2008 U.S. Open, was another shot back at 137, tied with K.J. Choi (70).
"I'm three back," Woods said. "I played myself back into the championship. We've got 36 more holes. We've got a long way to go."
The prescient Masters Committee paired McIlroy, Fowler and Day — ages 21, 22 and 23, respectively — and the threesome lighted up the scoreboard, combining to shoot 23-under. They were 7, 8 and 9 when Woods won the 1997 Masters, the first of his 14 major championships, at age 21.
"I'm a little older now, I guess," Woods said. "This is the next generation. It's good to see these guys playing with that much enthusiasm and zest for the game . That generation is going to be a fun one to watch, how it matures over the next 10, 15 years."
Woods has struggled with swing changes and turmoil in his personal life, but on the back nine Friday, he looked like the player who held the game hostage from 1997 to 2008.
His birdie on No. 18 was something to behold. He lost his tee shot right and his 160-yard approach to the green from the first cut was blocked by trees. He started his 8-iron at the left greenside bunker and it curved 20 yards to the right and plopped down 12 feet from the hole.
Not many players on earth have that shot.
"It was nice to get it going today, and it was nice to put myself only three back," Woods said. "I'm very pleased."
McIlroy followed his first-round 65 with a solid 69 on Friday.
He didn't make a bogey until his 30th hole but could manage only pars on the last five holes.
Copyright 2018 The Lawrence Journal-World. All rights reserved. This material may not be published, broadcast, rewritten or redistributed. We strive to uphold our values for every story published.