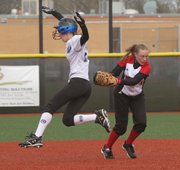 After hitting an RBI triple to beat vaunted Olathe Northwest in the 11th inning on Thursday, Lawrence High senior catcher Kristen Bell just stood on third base.
She looked confused.
"I knew we scored the winning run, but I was like, 'Am I gonna get called out if I step off?'" Bell said. "So I wasn't taking any risks."
Once Bell was swarmed by teammates storming from the Lions' dugout, she had no choice but to step off.
Bell's RBI gave the Lions a 2-1 victory in Game One. The Lions fell, 5-0, in Game Two, but coach Reenie Stogsdill said her players should recognize that they can play with anybody like she has been telling them all season.
The Lions (4-4) led, 1-0, going into the seventh inning of Game One, but nearly gave the game away.
The Ravens' Mikayla Warren singled to open the inning. After a pitch to the next batter bounced in the dirt, Warren took off toward second base, drawing a throw from Bell.
The ball squirted out of shortstop Marly Carmona's glove and scooted past center fielder Megan Wilson covering the throw.
Warren raced all the way home, scoring the tying run.
"I can just tell you that I'm so happy that we won that game because I would have felt terrible for the kids to lose a game like that," Stogsdill said.
LHS pitcher Lauren Massey went 11 innings for the win, striking out seven.
O-Northwest's Jacinda Ramos, who will pitch at UMKC next year, struck out 14 in the loss.
Bell said everyone on the team desperately wanted the win.
"It really helps our confidence," Bell said. "I mean, we just played one of the best teams in the state and beat them."
In the second game, the Ravens scored three runs off Massey and didn't look back. Stogsdill again sent freshman Amanda Montgomery to the circle to get her experience.
Montgomery had two 1-2-3 innings in her three innings of work.
"We got three pretty good innings out of her, so hopefully that'll build her confidence and help us later in the year," Stogsdill said.
And though the Lions have split all four doubleheaders this season, Thursday's split felt a lot different.
"A win like that is so fun," Bell said.
Since the Lions had to go extra innings to pick up the win, they won't have a full practice today. That doesn't mean they'll be slacking off, though.
"These kids have the best work ethic of any team I've ever had, and so I think if they just keep working hard, good things are going to happen," Stogsdill said.
LHS travels to ODAC on Tuesday for a doubleheader with Olathe South. The games are scheduled for 4:15 and 6:15 p.m.
Copyright 2018 The Lawrence Journal-World. All rights reserved. This material may not be published, broadcast, rewritten or redistributed. We strive to uphold our values for every story published.