Photo Gallery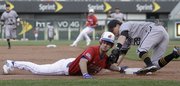 KU vs. Missouri baseball
Related document

KU-Missouri baseball box score ( .PDF )
Kansas City, Mo. — Call him Thomas "The Tiger Tamer" Taylor.
Wednesday night at Kauffman Stadium, the Kansas University starting pitcher surpassed his stellar performance against the Tigers from 2010 with a career night that led the Jayhawks to a 7-1 victory over Missouri.
The win was the fourth in four tries for the Jayhawks (13-16) over the Tigers (13-16) at the major-league ballpark, but the dominance of that stat was nothing compared to the commanding performance Taylor delivered at The K for the second season in a row.
In two career starts versus MU at Kauffman Stadium, Taylor has given up just one run in 11 2⁄3 innings. Included in that span are three hits, three walks and 17 strikeouts.
Wednesday, Taylor went six innings and gave up one run on one hit while striking out a career-high nine batters. Of the 119 pitches he threw, 76 were strikes.
"You hand that ball to a kid who's been a lifelong Royals fan, it's a pretty special day in his life," KU coach Ritch Price said of Taylor. "He went ball one on the first nine hitters, and then he found himself with the three strikeouts in the third inning. He was dominant from there on out."
Asked what it is that gets him going when pitching in the cavernous big-league ballpark , the Overland Park native pointed to his early memories of coming to watch the hometown Kansas City Royals.
"I grew up around here, and I think I went to my first Royals game when I was 2," Taylor said. "I've always wanted to pitch here, and tonight I just wanted to pitch as well as I did last year, and everything went well."
The Jayhawks struck first when first baseman Zac Elgie ripped an RBI double in the bottom of the first that scored Jimmy Waters, who walked. Mizzou tied the game on a sacrifice fly in the top of the second, but the Jayhawks broke it open after that.
Jordan Dreiling (2-for-4, 2 RBIs) and Ka'iana Eldredge (1-for-3, 2 RBIs) delivered RBIs in the three-run second inning, and Eldredge, Jake Marasco (1-for-3) and Chris Manship (0-for-2, sacrifice fly) added RBIs in the three-run third.
"That was the key, getting on 'em early," Dreiling said. "A lot of teams will deflate after you score seven runs on them, and we kind of coasted after we got to seven."
While the KU bats staked Taylor to a six-run lead, the 6-foot-3, 209-pound third-year sophomore continued to cruise on the mound. At one point, Taylor struck out five consecutive Tigers. He retired the final batter of the second inning on a called strike, fanned the side in the third and led off the fourth with an overpowering strikeout of Mizzou's Dane Opel.
"I think I just tried to stop overthrowing and pound the zone lower, and everything went well after that," Taylor said. "I started hitting my spots more and getting ahead in the count, and I think that really helped."
Taylor was not alone in keeping the Tigers' bats quiet Wednesday night. Relievers Frank Duncan and Colton Murray pitched three innings without surrendering a hit to complete KU's first combined one-hitter since April 2008.
"We've been winning with pitching and defense all year," Price said. "Every time we play a quality opponent, it's been Duncan and Murray out of the bullpen."
Dreiling, the team's utility man and a Free State High graduate, made the first outfield start of his college career. In addition, Waters, normally a corner outfielder, started in center field for the first time in his KU career. Also of note for Kansas was catcher James Stanfield extending his hitting streak to eight games.
Wednesday's victory over their arch-rival came as a relief for the Jayhawks, who were reeling from a 6-1 loss to Missouri State on Tuesday night, their second loss to the Bears in a week's span.
"(KU senior) Jimmy Waters came in yelling, 'This is our season, fight for our season,'" Dreiling said. "It's going well for us right now, now we just need to carry it into this weekend."
The Jayhawks will open a three-game series against Nebraska at 6 p.m. on Friday at Hoglund Ballpark.
Copyright 2018 The Lawrence Journal-World. All rights reserved. This material may not be published, broadcast, rewritten or redistributed. We strive to uphold our values for every story published.