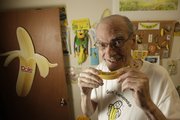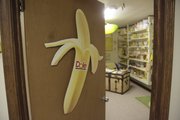 On Charles Stansifer's wall hangs a master's degree. It's not in history or Spanish, his specialties. No, this degree is in bananaology, signed by Anna Banana herself in 1981. The framed paper is but a hint of what's through the door it hangs next to.
Stansifer, a former professor of history at Kansas University, keeps an extensive banana collection in a basement room. The bright yellow collection is almost 50 years' worth of birthday gifts, Christmas presents and a few items he purchased himself. Shelves are lined with more than 1,000 banana-themed items, ranging from a harmonica to a compass to a Banana Blaster squirt gun.
•••
I once knew a doctor from Ghana
He lived in the city of Banana
I'm sure you doubt
But hear me out
Just look at a map of Africana
— Charles Stansifer
•••
Stansifer was born in Garden City and attended high school in Garden Plain. After graduating, he got a job with the Santa Fe Railway, where most of the other workers were Hispanic, and he started picking up bits of their language.
"I tell the story that I learned the bad words in Spanish," he said. "I decided to major in Spanish, to figure out what the rest of the language was like."
Stansifer, now 80, went on to get both undergraduate and master's degrees at Wichita State. In 1954, he headed to Tulane University in New Orleans for his doctorate and to focus on Central America. A professor took him down to a newly arrived banana boat at port, where faculty from Tulane were having a party.
"That just absolutely fascinated me, and so I decided right at that moment that I was going to write my dissertation on the history of bananas," Stansifer said.
His plan was derailed when he learned that banana companies wouldn't allow him to look at their documentation, but his love for the yellow fruit was born.
"You couldn't do the history of Central America without being interested in bananas," he said. "That was essential."
Stansifer came to KU in 1962, and during his tenure he would become director for the Center of Latin American Studies and director of the History Department. That was also when he started collecting.
•••
There was a young girl from Savannah
I think that her name was Susannah
I'm sorry my pet
Her face I forget
But her figure was like a banana
— Charles Stansifer
•••
Stansifer picks up a banana-shaped bottle labeled "Tanana" — it's suntan lotion. Farther down on the shelf is a toy monkey getting ready to eat a banana, and then a sign that says "This place is driving me bananas."
On the wall is a banana puzzle, a solid yellow rectangle broken up only by one small red banana sticker.
"You never know what you're going to see related to bananas," Stansifer said.
After Stansifer started collecting banana items, they became the gifts of choice given by friends and family. Former students would find banana objects on their travels, such as his two banana-shaped harmonicas, marked "I went bananas in Philadelphia" and "I went bananas in Los Angeles."
He figures his students remembered his humorous banana lecture he would give every semester in his history of Central America class.
"Obviously, the kids who took the class, they remembered about the bananas more than they did about the history of Central America," he said.
For the lecture, Stansifer would use a banana squeeze toy as a pointer, wear glasses with a banana nose attached and threatened to shoot anyone who came in late with a Banana Blaster — a banana water gun.
His threat wasn't just half-cocked.
"Sure enough, the only one who came in late that day was the wife of the chancellor," he said. "So I shot her."
Every square inch of his banana room is covered, and Stansifer said he's received lots of repeats, such as the Bananagrams game.
"They began to fall into my lap from all my grandkids and other friends of mine," he said.
Most of Stansifer's collection stays confined in his banana room, but items have started creeping out. A banana plant sits in the next room over, nicknamed the Costa Rica room, for Stansifer's professional specialty at KU, from which he retired in 2005.
Out in the main room of the basement are a few more banana novelty items, and upstairs is a thermometer from a banana warehouse. Most of it has to stay downstairs though, says Stansifer's partner, Mary Miller, 83. She's amused by his banana humor, though.
"I think it's pretty farfetched, especially the limericks," she said.
Stansifer doesn't consider himself an expert on the history of bananas, but he knows he's pegged himself as the banana guy.
"I think my life is determined, to a certain extent, by bananas," he said.
Copyright 2018 The Lawrence Journal-World. All rights reserved. This material may not be published, broadcast, rewritten or redistributed. We strive to uphold our values for every story published.