Photo Gallery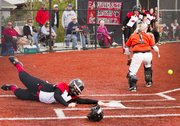 Lawrence High softball vs. Shawnee Mission Northwest
Blaming Lawrence High senior pitcher Lauren Massey for tiring late in the second game of the Lions' home doubleheader Saturday would be silly.
After all, she had just pitched 12 shutout innings after pitching 14 innings on Thursday.
The Lions won the first game Saturday against Shawnee Mission Northwest, 2-0, but saw their two-run lead in the second game evaporate. LHS rallied to tie the game in the bottom of the seventh, but the Cougars scored two in the top of ninth to take a 5-3 victory.
LHS coach Reenie Stogsdill said she was happy with her players' performance, but disappointed they couldn't pull off the sweep. In no way was she disappointed with Massey's performance.
"She's not used to pitching this much this early," Stogsdill said. "So I thought she battled pretty good out there."
The Cougars spread seven hits against Massey in the first game. With two batters on and no outs in the bottom of the seventh inning, Massey retired three straight batters, finishing with a swinging strikeout and a huge fist pump.
In the second game, the Cougars scored twice in the top of the sixth, once in the top of the seventh and twice in the top of the ninth. Stogsdill, sensing Massey's fatigue with two outs in the ninth inning, sent freshman Amanda Montgomery to the mound for the first time this season.
The coaching staff wants to give Montgomery innings so she can help Massey stay fresh.
"That's a slow process, but we got her a little bit of the taste today," Stogsdill said.
Senior catcher Kristen Bell thought Massey pitched well, despite the late runs. In Bell's eyes, Massey's consistency is her greatest asset.
"If I call low and outside, she puts it there," Bell said. "It's nice for me, but it's nice for her too."
Massey will likely be on the mound again when the Lions (2-2) play Olathe North at LHS on Tuesday. First pitch is set for 4:15 p.m.
Copyright 2018 The Lawrence Journal-World. All rights reserved. This material may not be published, broadcast, rewritten or redistributed. We strive to uphold our values for every story published.