Don't ask Lawrence High junior Chandler Thomann how his game-winning header goal in double overtime crossed the goal line.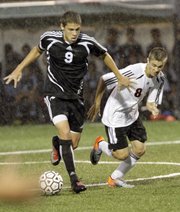 He was face down in the wet ground at the time.
"I just saw everybody celebrating, so it must have gone in," Thomann said "I just went with it."
Thomann's all-out dive and header off a corner kick gave Lawrence a 2-1 victory against Olathe Northwest on Thursday night at the Lawrence High soccer field. Thomann scored two minutes into the second 10-minute overtime and the 92nd minute overall.
He estimated that he had played for three minutes in the game total.
LHS coach Mike Murphy said his team knows to get the ball on corner kicks to a place where his bigger players — like Thomann — can get a head on it.
"He knows that's his job and he's got to get in there and be reckless with his body and get his head on the ball. And he did," Murphy said.
It was a wild finish to a wild and wet game.
Olathe Northwest (2-5) struck first, two minutes into the second half when junior Graham Dobbins slid one to the right of Lawrence junior goalie Tanner Click and into the back of the net.
Click, who recorded a stellar shutout against Free State on Tuesday, left the game minutes later after making a save on a Raven breakaway. Murphy said Click went to the hospital because trainers were worried he might have had a mild concussion.
Senior goalie Julio Salazar went in for just the second time this season.
"I came in nervous at first, but when I started getting into the mood, I didn't concentrate on my nerves," Salazar said. "I concentrated on the ball."
Murphy said Salazar made at least three great saves in holding the Ravens scoreless the rest of the way.
"We don't drop off coming from Tanner to Julio," Murphy said. "They both just give us a little different style."
The Lions (1-4-1) scored their equalizer 11 minutes into the second half on a long shot by sophomore Gavin Fischer. With the Northwest goalie scrambling to get back into position, Fischer launched a shot from 30 yards out into the upper left corner of the net.
The rain finally relented, but neither team could score before the end of regulation.
Olathe Northwest senior captain Alex Gleason was shown a red card late in the first overtime, leaving his team with just 10 players on the field.
Relentless pressure from Lawrence visibly frustrated Olathe Northwest.
"We've talked about that we want to be the kind of team that just keeps coming at you," Murphy said. "Just keeps coming at you until the other team is just like, 'Oh man, we hate playing these guys. This is just no fun.'"
Thomann certainly had fun after his game-winning goal, one that barely crossed the line before being cleared out by a Northwest defender. He took off sprinting before getting engulfed by his teammates near the middle of the field.
"These kids needed that, getting that first win under their belt," Murphy said. "Hopefully there's a lot more of those to come."
Copyright 2018 The Lawrence Journal-World. All rights reserved. This material may not be published, broadcast, rewritten or redistributed. We strive to uphold our values for every story published.