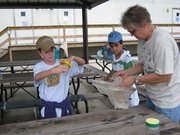 Topeka — Racing worms, sorting recyclables and catching butterflies are all in a day's work if you are a third-grader in the Auburn-Washburn Unified School District 437.
Third-grade students in USD 437 are participating in the annual "Squirmy Science" program at the environmental classrooms north of Washburn Rural Middle School. On 66 acres of land, the students hike nature trails, learn about severe weather safety and get to "play" with worms and other creepy, crawly creatures.
"It would be impossible to replicate what we do out here in the classroom," said Loretta Peter, a retired Pauline Central second-grade teacher and a volunteer for Squirmy Science. "A lot of students haven't had the experience of being out on the prairie."
Although the program may sound like just a fun excuse not to be at school for the day, Sue Ann Funk, lead teacher for USD 437's outdoor environmental program, said each class session has been designed to fulfill two of the state science indicators in a "fun and clever way" and uses an assessment tool to make sure the students have learned what is taught.
Funk also agreed with sentiments that many children don't get enough activity outside.
"Kids spend less time outdoors than they used to," she said.
Recently the third grade class at Auburn Elementary got to spend their day doing Squirmy Science projects.
Before Grace Collins raced her worm, "Speedy," against her classmate Katie Cain's worm, "Racey", she said she had to measure and identify other characteristics of her worm. Outside of the worm races, Grace she enjoys catching things with wings.
"Usually I like catching bugs," Grace said. "I like catching fireflies."
Grace's mother, Dia Collins, said the students get a good idea of what actually goes on in the outdoors when they participate in the Squirmy Science sessions.
"This is nature," she said. "You've got your ponds and occasional snake that crosses your path. They get all that."
Another mother and Auburn Elementary first-grade teacher, Jennifer Norton, said the program is effective in teaching science concepts because it gets the children out of the school building.
"They remember so much of what they're hearing, seeing, and touching out here," she said. "It's important because they need to see a different environment than what's in the classroom."
The idea of learning outside of the classroom sits just fine with Norton's son, third-grader Aiden Sothers.
"I like being away from school and not having to do homework," he said. In addition to catching bugs and then having to identify them, Aiden said he and his classmate, Kevin Monge, got to eat a meal worm with taco seasoning.
Judi Salyer, a retired USD 437 speech pathologist, said she enjoys helping with Squirmy Science because it gets her and the students outside.
"I happen to like the outdoors so I came back as an outdoor educator," she said. "This gives the children a better appreciation for the outdoors. It's not just about what they read in a book. They get a lot of hands-on experience, too."
Copyright 2018 The Associated Press. All rights reserved. This material may not be published, broadcast, rewritten or redistributed. We strive to uphold our values for every story published.