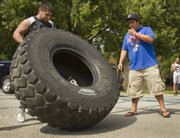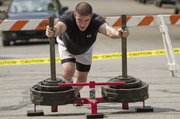 Lawrence resident Matthew Andre had just finished a bike ride Saturday with his wife when he showed up at the Next Level Games in Watson Park. He said the plan for the couple was to "try and have a relaxing day."
Next Level Games Winners
• Overall male: Robbie Andrews
• Overall female: Tiffany Saturday
• Top professional: Isaac Combs
• Top team: Cris Bryan, Shelly Gaudreau and Jean Anderson
Andre, who teaches exercise science at Kansas University, was just going to drop by the event to support one of his students.
"Then I thought, 'This looks like a lot of fun,'" he said.
The lure of flipping 400-pound tires and pulling trucks was too enticing to resist, and the competitive nature in the former powerlifter took over.
Andre signed up with dozens of other athletes, who took part in a bizarre, pain-inducing fitness challenge.
The athletes began by pulling a truck with a rope. Then, the competitors flipped over monster-truck-sized tires, followed by walking an obstacle course while gripping 135-pound barbells — in each hand. Five minutes rest, then on to the obstacle course of monkey bars, climbing walls and high-jump bars.
To top it off, the "prowler," which consisted of pushing a metal sled — loaded with double the athlete's body weight — across the pavement.
That final task almost broke Eric McIntosh, of Kansas City, Mo.
"That prowler — that thing is like pushing a hippo," said McIntosh, who when not flipping tires and pulling trucks trains mixed martial arts fighters. McIntosh added a little flare to the event for the dozens of fans, starting the obstacle course with a cartwheel and ending with a flip over the high-jump bar.
The brutal competition, in its second year, was the brainchild of couple Chad and Laura Richards, who own the Next Level gym, 644 E. Locust in north Lawrence.
They had a simple goal.
"We wanted something extreme," Chad said, adding that with a little training, nearly anyone can give it a try. The event featured both pro and novice classes, as well as male, female and team events — all offering cash prizes. The obstacle course was also kid-friendly, and dozens of youngsters ran through the course in between contests. Families, supporters and curious on-lookers stopped by on their way downtown, drawn by the grunting and huffing.
After finishing, McIntosh — between gasps for breath — described the whole experience as a "big rush." And the challenge was plenty extreme for this exercise junkie.
"It was the best feeling to be shaking like this from being so sore," he said, beaming with exercise-induced adrenaline. "Great sun, great people, great Lawrence."/
Copyright 2018 The Lawrence Journal-World. All rights reserved. This material may not be published, broadcast, rewritten or redistributed. We strive to uphold our values for every story published.