Sacramento, Calif. — Originally billed as a chance to reflect on the Sept. 11 terrorist attacks, a series of raucous tea party rallies around the country on Sunday ended up focusing almost entirely on an event still to come — the Nov. 2 election.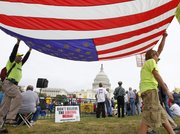 "We are your everyday, average, churchgoing families, we represent the majority of people in this nation, and we're ready to take back our government," said Pam Pinkston of Fair Oaks, Calif., one of about 4,000 people to attend Sacramento's "United to the Finish" gathering.
Thousands of tea party activists also turned up at rallies in Washington, D.C., and St. Louis to spread their message of smaller government and focus their political movement on the pivotal congressional elections in November.
Several thousand people marched along Pennsylvania Avenue from the Washington Monument to the Capitol, many carrying signs reading "Congress You're Fired" and "Let Failures Fail and "Impeach Obama."
"It wouldn't bother me to make a clean sweep," said Michael Power of Decatur, Ala., endorsing term limits for members of Congress. "There are some good ones, but we can lose those."
Leslie and Gary Morrison of Redding drove 150 miles south to the former McClellan Air Force Base in Sacramento with their dog Phoebe, just two weeks after flying to Washington to attend a large rally hosted by conservative commentator Glenn Beck. They said they liked the feeling of solidarity at the tea party events.
"This is a way to get people focused before the election," Leslie Morrison said. "And it's a way to get the tea party's true numbers seen."
Many attending the various rallies wore red, white and blue clothing and carried yellow flags with the picture of a snake coiled above the inscription "Don't Tread On Me."
In Sacramento, speakers railed against health care reform, the economic stimulus and President Barack Obama while standing in front of a 12-foot plastic replica of the Statue of Liberty.
In St. Louis, crowds packed the area between the Gateway Arch and the Mississippi River while a band dressed in powdered wigs and 18th century clothing belted out Kiss' "I Want to Rock 'N Roll All Night."
Organizers say the events intended to call attention to what they describe as big government run amok and to recall the sense of national unity Americans felt the day after the attacks of Sept. 11, 2001.
The rallies also represent an opportunity to build momentum before the November election. The tea party is counting on its members to turn out in large numbers and prove that the movement is a political force with staying power.
Beck and another tea party favorite, former Alaska Gov. Sarah Palin, spoke to a crowd in Anchorage, Alaska, late Saturday — the ninth anniversary of the terrorist attacks — and discussed their feelings about that day in 2001.
"Here we are so many years later, and I fear we are forgetting," Beck said.
Party activists reject characterizations of their movement as an extension of the GOP, but the vast majority of its members are Republicans and independents who vote Republican.
Copyright 2018 The Associated Press. All rights reserved. This material may not be published, broadcast, rewritten or redistributed. We strive to uphold our values for every story published.