Istanbul, Turkey — Kevin Durant scored 33 points to lead the United States to an 89-79 quarterfinal victory over Russia that moved it within two victories of its first world basketball championship since 1994.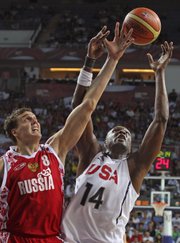 "We're going to go to him," U.S. coach Mike Krzyzewski said. "I've learned in coaching you should get your best player the ball."
The U.S. will play Saturday against Lithuania, which beat Argentina 104-85. Host Turkey and Serbia will play in the other semifinal.
Russia's Sasha Kaun scored four points off 2-of-6 shooting. The former Kansas University center also nabbed five rebounds.
Golf
Kuchar jumps out in front
Lemont, Ill. — Already having his best season, Matt Kuchar got off to his best start of the year Thursday in the BMW Championship.
Kuchar, who won the opening FedEx Cup playoff event to position himself for the $10 million bonus, wasted no time putting his name atop the leaderboard. He finished with an 18-foot birdie putt for a 7-under 64 and a one-shot lead over Ryan Moore.
Belgian finishes strong
Hilversum, Netherlands — Belgium's Nicolas Colsearts birdied five of his last six holes for an 8-under 62 and a two-stroke lead in the KLM Open. England's Kenneth Ferrie and India's Shiv Kapur opened with 64s.
NFL
Packers extend CB's contract
Green Bay, Wis. — The Green Bay Packers signed cornerback Charles Woodson to a contract extension through the 2014 season on Thursday, a deal that will likely allow the 2009 AP Defensive Player of the Year to retire as a Packer.
Cowboys' Austin inks new deal
Irving, Texas — Pro Bowl receiver Miles Austin is going deep with the Dallas Cowboys — from undrafted rookie to a breakout season and now a long-term contract extension.
The Cowboys and Austin agreed to a six-year extension through the 2016 season on Thursday, just three days before the fifth-year player's first season opener as a starter.
Beanie's knee bumming
Tempe, Ariz. — Arizona Cardinals' Beanie Wells sat out practice again on Thursday with a sore right knee. He said the knee is "a lot better," but it would be the coach's decision on whether he would play in the Cardinals' season opener Sunday in St. Louis.
Brady to be top paid player
Foxborough, Mass. — Two people with knowledge of the contract said Thursday night that Tom Brady has agreed to a four-year extension that would make him the NFL's highest paid player.
The extension for the New England Patriots quarterback begins in 2011 at an average of $18 million per year with a total of $48.5 million guaranteed.
College basketball
Tennessee under NCAA microscope
Knoxville, Tenn. — A person familiar with the situation says the NCAA has talked to Tennessee basketball coach Bruce Pearl and an assistant about possible violations in the program.
The NCAA is looking into possible excessive contact with recruits, the person told the Associated Press on Thursday night.
UT was among the finalists for KU freshman Josh Selby, whose eligibility is under review by the NCAA.
College football
Rebels boot starting lineman
Oxford, Miss. — Coach Houston Nutt says Mississippi offensive lineman Rishaw Johnson has been kicked off the team after a "violation of team rules."
Boxing
Police seeking Mayweather
Las Vegas — Police sought boxer Floyd Mayweather Jr. for questioning Thursday about a domestic battery report filed by an ex-girlfriend who recanted a similar claim in 2005, police and his lawyer said.
Soccer
FIFA delegation concludes tour
Houston — The United States made its pitch for the World Cup. Now it's time to wait.
FIFA's World Cup inspectors wrapped up a three-day, five-city visit on Thursday, touring Reliant Stadium as they weigh potential venues for the 2018 and 2022 tournaments.
The inspectors also visited New York, the White House, Miami and Dallas.
Copyright 2018 The Associated Press. All rights reserved. This material may not be published, broadcast, rewritten or redistributed. We strive to uphold our values for every story published.