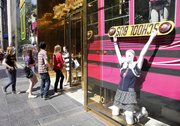 New York — This year's back-to-school season isn't as big a bust for retailers as they feared — or as last year's — but it's not great either.
Americans are spending only when the item and price are just right, according to August reports from major chains released Thursday that showed shoppers bought a little more than a year ago.
Analysts expect stores will need to keep discounting to get shoppers to spend this fall and for the holiday season while they grapple with job worries and tight credit.
"It's a glimmer of hope that the numbers are coming in ahead of low expectations," said Ken Perkins, president of research firm RetailMetrics. "But the back-to-school shopping season isn't anything to get excited about. It means that Santa may not be dumping a huge lump of coal, but it sets up a very promotional holiday season."
Retailers that cautiously primed for a comeback five months ago as sales improved have been scaling back their hopes and making some tweaks to their merchandise again, analysts said. Stores will face more difficult comparisons starting this month because consumer spending had started rising by last September.
But Thursday's reports helped ease fears of another double dip recession, which have been stoked in recent weeks by a barrage of negative economic reports, including slumping home sales.
Other notable business news:
• Feds: No link between Dry Max diapers and rashes. Government safety officials have not found a connection between a new kind of Pampers diapers and the severe skin reactions reported by some parents' groups. The Consumer Product Safety Commission said Thursday that it has reviewed 4,700 complaints but found no specific cause linking Pampers diapers with new Dry Max technology to diaper rash.
• Burger King sets sights overseas after $3.26B sale. Burger King's new ruler could help its empire expand. Burger King Holdings Inc. sealed a deal Thursday to sell itself for $3.26 billion to 3G Capital, an investment firm with strong ties to Latin America.
Copyright 2018 The Associated Press. All rights reserved. This material may not be published, broadcast, rewritten or redistributed. We strive to uphold our values for every story published.