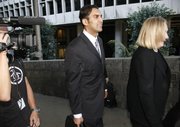 Los Angeles — In hospitals, medical offices and pharmacies, Anna Nicole Smith was routinely registered under pseudonyms to protect her privacy.
But in the wake of the convictions of her psychiatrist and lawyer-boyfriend for using false names on her drug prescriptions, the Hollywood medical community awoke to the realization Friday that the practice might be off limits and some doctors could avoid treating celebrity clients rather than risk criminal charges.
"This is a shocker," criminal defense attorney Harland Braun, who has represented celebrities and doctors, said of Thursday's verdicts.
He said the convictions of Dr. Khristine Eroshevich and Howard K. Stern for obtaining drug prescriptions for Smith under false names contradicts common practice.
"It's absolutely necessary for survival in Hollywood," he said, noting that in the age of paparazzi and celebrity gossip websites, information on star illnesses can be worth a lot of money.
Medical professionals routinely use pseudonyms for celebrities to protect their privacy and until now no one was being prosecuted for doing it, he said.
"If it stands that keeping these people anonymous is a criminal act, a lot of doctors will have to refuse to take celebrity patients because they can't protect them," he said.
Smith, the late Playboy model and reality TV star, was known as Jane Brown, Susie Wong and Vickie Lynn Marshall, her true name. She was not the only star with a medical pseudonym.
Michael Jackson had several, although the doctor who pleaded not guilty to involuntary manslaughter in his death is not charged with using a false name to get him drugs. Performers such as Britney Spears and Mariah Carey also were known to use aliases when seeking medical care.
Attorney Ellyn Garofalo, whose client Dr. Sandeep Kapoor was acquitted of all charges including false name allegations in the Smith case, said "these statutes involving use of fake names have never been enforced in this context."
She said it was so unusual that she was unable to find case law on the subject when doing research for the trial.
"There are doctors in Beverly Hills today saying, 'Oh, my God, this is illegal?'... It just goes on all the time," Garofalo said.
If the convictions of Stern and Eroshevich stand, "this whole process of helping celebrities protect their privacy is in jeopardy. What physician in his right mind wants to take on a celebrity when they will get charged criminally," she said.
Kapoor was continuing a fictitious name, Michelle Chaseused for Smith by another doctor who treated her then sold his practice to Kapoor. The other doctor was not charged and testified for the prosecution.
Testimony in the trial also showed that when Smith was admitted to Cedars-Sinai Medical Center, she was automatically given a pseudonym, Jane Brown. When she left the hospital, she was given a prescription under that name.
Garofalo said UCLA Medical Center also has given aliases to stars including Britney Spears and Mariah Carey, attempting to avoid repeats of a scandal that erupted when an employee accessed records of the dying Farrah Fawcett and sold them to the tabloids.
Nicole White. a spokeswoman for Cedars Sinai, and Dale Tate, a spokeswoman for UCLA Medical Center, said they were seeking comment from officials about the issue and had no immediate response.
Steve Sadow, the lawyer for Stern, expressed hope that the verdicts will be overturned or reduced to misdemeanors by Superior Court Judge Robert Perry.
"The judge has the authority to consider the well-known and commonly accepted practice of doctors and hospitals using aliases and so-called false names," Sadow said.
Brad Brunon, the attorney for Eroshevich, said doctors treating stars have a dual obligation to provide good medical care but also to protect their privacy.
"I don't think most physicians know that writing a prescription under a pseudonym is a felony," he said.
Copyright 2018 The Associated Press. All rights reserved. This material may not be published, broadcast, rewritten or redistributed. We strive to uphold our values for every story published.