Blue Bell, Pa. — To understand Republicans' nagging fear that the Nov. 2 elections might not be quite the massive triumph that many have predicted, check out Pennsylvania's perplexing Senate race.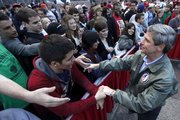 Democratic Rep. Joe Sestak has trailed Republican Pat Toomey for months, and a GOP victory always has seemed likely, given that it's a Republican-trending year in this perpetually contested state. Yet recent polls suggest Sestak has closed the gap, and Republican leaders are imploring supporters not to panic even as they ask themselves: What's going on?
The Sestak-Toomey race mirrors other Senate contests that are making this one of the most intriguing and unpredictable midterm elections in years.
Just as in Nevada, Colorado, Kentucky, and perhaps Alaska and Connecticut, each candidate is an accomplished but imperfect politician, and the tea party movement is playing a big but uncertain role.
In most of those states, plus Washington and California, Senate races are tightening to nail-biting margins. That means Republicans might pick up a few seats or as many as 10, which would give them the majority. Democrats privately concede they may be unable to keep their House majority, but losing the Senate would be devastating.
President Barack Obama's travels now focus largely on trying to save Democratic senators in Washington, California, Nevada and Wisconsin, a clear sign that his party is still playing defense.
While California and Washington see Senate GOP challengers creeping up on Democratic incumbents, it's embattled Democrats who seem to be rising elsewhere. They have seized on a common claim: A dangerous fringe movement, the tea party, has taken over the Republican Party.
Unlike the Republican nominees in Colorado and Nevada, Pennsylvania's Toomey fits more comfortably in the GOP's business-friendly, low-tax tradition than in the hot-blooded, anti-establishment tea party model. Still, he has accepted tea party champion Sarah Palin's endorsement.
Sestak is using that fact — plus, curiously, the notoriety of tea partier Christine O'Donnell, the GOP Senate nominee in neighboring Delaware — to paint Toomey as a pilot of a new and scary Republican Party veering dangerously to the fringe.
In speeches and ads, Sestak ties Toomey to O'Donnell, the headline-grabbing upstart who trails by double digits in Delaware polls. In a debate Wednesday, Sestak said he worries about "those extreme candidates" who take advantage of "the extreme fringe of the tea party. There are those that are running with Congressman Toomey. Miss O'Donnell next door, for example."
While many analysts have predicted a tightening of Senate races, the strategy might be working. If that perception spreads, it will embolden Democrats making similar claims against tea party Republicans in Nevada, Colorado and elsewhere.
It might even give hope to Democratic Senate nominee Jack Conway in Kentucky, where Republican Rand Paul has not quite sealed a victory.
In Alaska's complex race, Sen. Lisa Murkowski is slapping the too-extreme label on Joe Miller, the tea party favorite who denied her the Republican nomination. Murkowski is trying a write-in campaign, while the Democratic nominee, Scott McAdams, seems to be running third.
Some analysts see two other factors helping Sestak, and perhaps Democrats elsewhere:
• Democrats are thought to have a superior get-out-the-vote operation here and in other states, and the latest polls might be reflecting the heavy contact of voters by phone and door-knocking.
• Obama and others have said Democratic voters will "wake up" when they realize what's at stake, and some analysts think that's happening now.
Many Republicans scoff at these claims, saying a powerful tide of voter anger still runs heavily in their favor.
To be sure, Sestak has his own problems, just as Sen. Harry Reid has poor approval ratings in Nevada, and Sen. Michael Bennet struggles to defend his support of Obama in Colorado.
Pennsylvania Republicans say the intense former Navy admiral is too liberal for this centrist state. They note that Sestak, a two-term House member, wanted a public insurance option in the new health care law, a larger stimulus package than the $814 billion plan Congress approved, and a tougher cap-and-trade energy bill than the House passed.
In a televised debate in Pittsburgh on Friday, Sestak defended Obama's stimulus spending. He said mainstream economists believe 8 million more jobs would have disappeared without the blend of middle-class tax cuts and help for cash-strapped state governments and the unemployed.
Toomey said three years of halving payroll taxes would have been more effective, by making it less costly for businesses to hire new workers.
Copyright 2018 The Associated Press. All rights reserved. This material may not be published, broadcast, rewritten or redistributed. We strive to uphold our values for every story published.