-->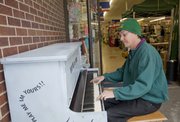 Ray Charles. Traffic. Dad.
Bradford Hoopes channels them all, playing a free-for-all piano outside a hardware store on Massachusetts Street.
Listen. Learn. Enjoy.
"I usually play the 'boogie woogie' my Dad taught me, or some sort of ragtime or stride thing, because it just sounds great on a stand-up piano," said Hoopes, who's been turning manual keystrokes into music for 41 of his nearly 45 years. "I like to do jumpy stuff. It suits this piano, the setting."
The setting is new for Lawrence, a public piano in a public place used for public performances — all of them outdoors, in concert with other movements throughout the country.
What started this summer with 60 pianos as part of a public-art exhibition in New York City has expanded into downtown Iowa City and, just recently, even the south-central Kansas town of Hutchinson.
"It's kind of a community thing," said Melissa Warren, a piano technician at Kansas University who fixed up a Story and Clark upright and arranged to have it placed at Cottin's Hardware and Rental, 1832 Mass. "It's just a nice way to encourage interest in the piano and have some public music."
Warren and Hoopes are among those hoping the public stage — this one literally pushed up against an exterior brick wall at Cottin's — can expand into other venues throughout Lawrence.
So far, the idea has yet to catch on.
Preliminary inquiries at the Lawrence Public Library, the Lawrence Community Shelter and even her bank at the edge of downtown Lawrence all were rebuffed, Warren said, because of liability concerns — specifically, that a piano might tip over and fall on people.
"I didn't think I would meet this much resistance," said Warren, who spent 18 years as a Lawrence firefighter before retiring three years ago. "There was a time 100 years ago when every establishment had a piano. It was the 'in' thing. Instead of a radio or a TV, every place had a piano. …
"I think we're getting a little too uptight about regulating everything, every little bit. We're stifling all the fun."
New York City allowed the pianos to be played in public, from 9 a.m. to 10 p.m., and Iowa City recently approved a permit process for the placement of public pianos on downtown sidewalks from March through October.
Warren figures the River City could be next.
"If it can work in New York," she said, "it can work in Lawrence."
Joe Cottin, assistant manager at his parents' hardware store, welcomes both the interest the sky blue piano generates and the music it produces each day, thanks to the 10 to 15 people who pull up a bench.
"We've had people who can play full concertos and whatnot, playing them all the way through," Cottin said. "We've also had people playing 'Chopsticks.' Little kids play while their parents shop. Kids from the junior high stop by on their way home from school.
"It's not our piano as much as it is a piano for the neighborhood."
Hoopes is hoping he and his own kids, ages 8 and 6, one day will be able to play, practice and experiment with pianos downtown — along with anyone else who wants to join in.
"It'll be a scene," he said.
Copyright 2018 The Lawrence Journal-World. All rights reserved. This material may not be published, broadcast, rewritten or redistributed. We strive to uphold our values for every story published.