Baylor University's soccer team tripped Kansas University, 1-0, in double overtime on Sunday at Jayhawk Soccer Complex.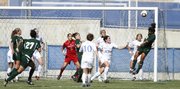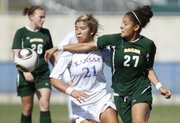 In the 102nd minute, KU defender Shelby Williamson broke up a play in the box, taking down a Baylor player. Williamson was awarded a yellow card, the fourth between the teams, in what proved to be one of the most physical matches of the season.
Hanna Gilmore was chosen to kick for the Bears (10-5-2, 3-4-0 Big 12), and scored for the victory. KU fell to 5-11, 1-7.
"I feel really bad for our kids, I thought we deserved to win the game, I really did," coach Mark Francis said. "You have a decision against you that late in the game and there's not much you can do about it. But we had enough opportunities to score, so it shouldn't have been an issue."
KU outshot the Bears 13-11.
"It's pretty frustrating. We've had a little bit of bad luck where we'd played some games and played very, very well and lost 1-0," Francis said.
Copyright 2018 The Lawrence Journal-World. All rights reserved. This material may not be published, broadcast, rewritten or redistributed. We strive to uphold our values for every story published.