Arlington, Texas — New York Yankees are already making it look like the 1990s all over again for Texas.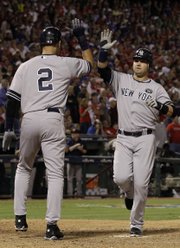 Alex Rodriguez scooted home soon after his two-run single that nearly was a double-play grounder, and the Yankees rallied for five runs in the eighth inning to beat the Rangers, 6-5, Friday night in Game 1 of the AL championship series.
The Rangers still have never won a postseason game at home — even after building a 5-0 lead against CC Sabathia.
Robinson Cano hit a solo homer in the seventh to begin the Yankees' comeback. Brett Gardner's headfirst dive for an infield hit the next inning started a string of seven straight hitters reaching base against C.J. Wilson and four relievers.
"The first seven innings didn't go too well for us," Gardner said. "Just trying to get something going. Sometimes, I feel like I can get there faster, depending on how my body's leaning."
Texas had a runner picked off in the eighth, then threatened in the ninth against Mariano Rivera by putting a runner on second with one out. But Rivera struck out Michael Young and retired Josh Hamilton on a grounder.
New York has won 10 consecutive postseason games against the Rangers, who were knocked out of the playoffs by the Yankees in their only three previous playoffs appearances (1996, 1998 and 1999). Texas is 0-7 in home playoff games, five of those losses to the Yankees.
"I don't know if we gave it away. We just didn't execute," Rangers manager Ron Washington said. "It certainly was our ballgame. We needed six outs. We just didn't get it."
The Yankees became the first team to win a postseason game after trailing by at least four runs in the eighth since the 2005 Astros, according to STATS LLC. Houston was behind Atlanta 6-1 in the eighth of NL division series Game 4 and went on to win, 7-6 in 18 innings.
"I'm never surprised at what our guys do. Maybe thrilled, but never surprised," Yankees manager Joe Girardi said. "They stay on each other about grinding out at-bats. Chip away. There's a talented group in there that plays with a lot of passion."
Right-hander Phil Hughes starts Game 2 for the Yankees today against right-hander Colby Lewis.
Hamilton's three-run homer in the first put Texas ahead, and only a fortunate bounce on what could've been a bases-loaded wild pitch later in the inning stopped the Rangers from getting more.
Copyright 2018 The Associated Press. All rights reserved. This material may not be published, broadcast, rewritten or redistributed. We strive to uphold our values for every story published.