Topeka — Kansas University officials today announced winning a $22 million grant to develop a new system of teaching and testing special education students in 11 states. It is the largest grant in school history.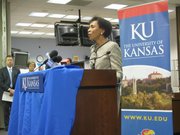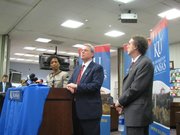 Officials said designing the new assessment could eventually reform the entire teaching and testing system for all students.
"That is my hope," said Neal Kingston, director of KU's Center for Educational Testing and Evaluation.
KU Chancellor Bernadette Gray-Little said, "With this grant, the University of Kansas has an opportunity to improve the quality of education received by countless children throughout this country and the world."
Kingston and others said the new assessment will have teachers, students and parents focused on the individual needs of the child rather than teaching students to prepare for one big test.
"It's long been realized that when accountability is based on test scores, teachers will teach to the test. The new system will turn around the process and design tests to model good instruction -- to be driven by and be part of instruction instead of standalone activity," he said.
"We need tests worth teaching to," he added.
Students in Kansas, Iowa, Michigan, Mississippi, Missouri, New Jersey, North Carolina, Oklahoma, Utah, West Virginia, and Wisconsin plan to use the program starting in the 2014-15 school year.
KU won the U.S. Department of Education grant over five other groups, officials said.
Copyright 2018 The Lawrence Journal-World. All rights reserved. This material may not be published, broadcast, rewritten or redistributed. We strive to uphold our values for every story published.