Nicholas and Matthew Howard already know how to walk to school, look both ways before crossing the street, follow instructions from a longtime crossing guard and say hello to gym teacher Mr. Hess on their way into Quail Run School.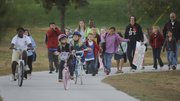 Wearing shorts, of course. Every day.
"It's cool," Nicholas says.
Wednesday wouldn't prove to be any different, as the fifth-grade twins made the familiar 0.3-mile trek to Quail Run, 1130 Inverness Drive, as part of International Walk to School Day.
Throughout the Lawrence school district and elsewhere, students, parents and others laced up shoes and set out for morning classes on foot.
At New York School, 936 N.Y., Principal Nancy DeGarmo joined dozens of walkers to school, starting from the Boys and Girls Club in eastern Lawrence.
At Sunset Hill School, 901 Schwarz Road, participants enjoyed a complimentary breakfast.
And at Quail Run, the Howard twins simply followed the sidewalk — passing underneath power distribution lines far overhead, avoiding falling walnuts from an overhanging tree, and delivering the traditional "fist bumps" with Frank Day, the crossing guard who's been watching them cross Inverness Drive for three years now.
Day doesn't let snow nor rain nor heat nor gloom of night — or anything else, for that matter — keep him from his own appointed rounds as a crossing guard, but he does admit to being a little surprised when winter rolls around and the twins are still wearing shorts.
Coats, hats, gloves and boots? Yes.
Knees covered? No way.
"I ask them, 'When are you going to get some warm britches?'" Day says with a laugh, after standing sentry at the corner of Inverness and Winged Foot Court, his second daily shift after working at the corner of Peterson Road and Arrowhead Drive earlier. "But they're smart kids."
The twins' mother is happy that her children had an opportunity to participate in yet another International Walk to School Day. She already knows what's coming when the first snow arrives.
"They'll be out there," she says. "They love walking to school when it snows."
Copyright 2018 The Lawrence Journal-World. All rights reserved. This material may not be published, broadcast, rewritten or redistributed. We strive to uphold our values for every story published.