Less than two weeks ago, McLouth High football senior Trevor Roberts was giving his opponent fits on the gridiron. But this Friday, he may not even be able to attend the Bulldogs' homecoming game.
How to help
A fund designed to help Trevor Roberts pay medical bills and other bills associated with his injury has been established at First State Bank and Trust, which has locations in Lawrence at 609 Vt. and 3901 W. Sixth.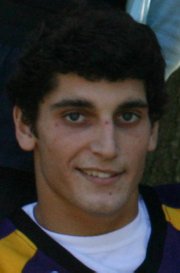 It was Sept. 24 at Sunrise Christian Academy, in Bel Aire, when Roberts had logged 193 total yards and three touchdowns in the first half. But then, late in the second quarter, Roberts suffered a compound fracture in his lower left leg.
He had broken his tibia and fibula and although he was back home two days later, complications from the injury last week forced Roberts' leg to be amputated just above the knee on Thursday.
Jerrad Humerickhouse and his wife, Lisa, serve as Roberts' guardians. After breaking his leg, Jerrad Humerickhouse said, Roberts was taken to Via Christi Health, in nearby Wichita. Surgery was performed that night, a titanium rod was placed in Roberts' leg and he was allowed to return to the Humerickhouses' home the afternoon of Sept. 26.
However, Humerickhouse said, Roberts began running a fever last week. At a Thursday appointment, an orthopedist determined Roberts required emergency surgery because of gangrene in the wound. Roberts' leg was amputated at Kansas University Hospital in Kansas City, Kan.
Humerickhouse said Roberts had a third surgery Monday evening at KU Hospital and because there was no remaining infection, the wound was closed.
"Everything's looking really good right now," Humerickhouse said. "The doctors are really pleased with the progress."
According to his guardian, it has not yet been determined whether Roberts - who also is a member of the McLouth High homecoming court - will be able to attend Friday night's game against Horton. He said doctors told the family on Monday that Roberts might be released from the hospital as early as Thursday.
"I'm sure, being a 17-year-old kid, he would love to do it if he could," Humerickhouse said.
Copyright 2018 The Lawrence Journal-World. All rights reserved. This material may not be published, broadcast, rewritten or redistributed. We strive to uphold our values for every story published.