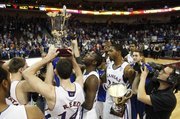 Bill Self said he was anxious to find out more about his Kansas University basketball team on the squad's first road trip — make that neutral-site trip — of the season.
True to form, certain things were unearthed about the 2010-11 Jayhawks during a successful Wednesday-to-Saturday night journey to Glitter City.
• The Jayhawks proved they are capable of not only stomping mid-major competition in Allen Fieldhouse, but other venues.
KU's 57-point pounding of Ohio (98-41) on Friday tied for the 11th-largest margin of victory in school history. It marked KU's third-biggest win in the Bill Self era, trailing only a 67-point win over Alcorn State last season and 58-point win over Texas Tech in the 2007-08 campaign.
• KU proved it could win a close game (87-79) against a good team (Arizona) and win a game when adversity hit. Marcus and Markieff Morris both had foul problems versus 'Zona. Also, the Jayhawks were able to win despite seeing a 16-point first-half lead turn into a four-point second-half deficit.
"We showed we have other guys who can step up and make plays," noted sophomore Travis Releford, one of six players to score in double figures against Arizona. "Marcus and 'Kieff are so important to the team. They played great, (but) we have other guys who can step up if they are in foul trouble."
• Releford, who has said he worked on his shot extensively last season, appears to have been telling the truth.
Releford drilled three three-pointers versus Ohio.
"He made shots the first half. Unfortunately, he fell in love with it," Self said of the three. Releford ended up missing his final three treys that night en route to a career-high 13 points. Against Arizona, he hit two of three threes and had 10 points.
"Travis played well. He made some threes to give us some distance. I'm glad he played well, but the ball stuck in everyone's hands (vs. Ohio)," Self said.
After the Arizona victory, Self said: "I'm excited for Travis. He's a great kid who works very hard. He's a natural scorer. He's so good getting in the lane. He has to get there and make plays for his teammates."
Releford shrugged off his long-range shooting display in Vegas.
"My confidence was sky-high," he said. "My red-shirt year, I worked on my jump shot. I feel good about my shot."
He's not forgetting about his ability to drive.
"My strength in college comes in driving," Releford said. "I've worked on my jump shot a lot, but coach tells me when I drive I can give us a spark. I hope I have developed the ability to do both."
• The Jayhawks have each others' backs, so to speak. KU players were quick to stand up for Elijah Johnson after he was tackled on a breakaway slam attempt versus Ohio and again later when he was hit hard in the back on an illegal screen. Thomas Robinson barked at an Ohio player and received a 'T,' which did not please Self.
"I think our guys acted chippy, which definitely is a sign of immaturity. Hopefully we can grow up and not let things like that bother us," Self said after the Ohio game.
Lesson learned? There were no incidents in the hard-fought Arizona game.
• Something also was unearthed about KU's fans in Vegas. They proved that they are just as loyal, if not more so, than KU fans of five-years ago. In 2006, KU fans occupied more than half of 7,500-seat Orleans Arena for victories over Ball State and Florida. On Friday, KU had at least 95 percent of the crowd versus Ohio and a day later at least 80 percent of the arena versus 'Zona.
No official attendance figures were given, but it appeared between 5,000 and 6,000 fans were in the stands each night.
Next opportunity for the home fans is Thursday night. UCLA comes to Lawrence for an 8 p.m. tipoff.
Copyright 2018 The Lawrence Journal-World. All rights reserved. This material may not be published, broadcast, rewritten or redistributed. We strive to uphold our values for every story published.