Photo Gallery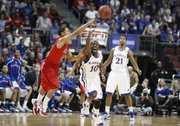 KU basketball vs. Arizona
Press Conferences & Post-Game Interviews
KU coach Bill Self
Kansas coach Bill Self talks to reporters following the Jayhawks' 87-79 victory over Arizona on Nov. 27, 2010.
Las Vegas — The buzz after Kansas University's 87-79 men's basketball victory over Arizona on Saturday night was all about KU forward Thomas Robinson's slam.
With 4:46 left, Robinson reached wide with one hand to corral an alley-oop pass by Tyshawn Taylor before slamming it in with some force.
"It was all right," Robinson said with a smile. "I think it was a big momentum boost for us. Any time someone gets a dunk, it's going to be a game-changer. That was a good boost for us."
His teammates and coach were amazed with Robinson's athleticism on the dunk.
"I was trailing the play, so I knew (Taylor) was going to throw it," KU guard Tyrel Reed said. "It was a good pass, but it was an even better catch. Coach (Bill) Self always says to put it in with two hands, but there was no way he could do it on that one."
Self called the play "unbelievable."
"I don't know how he caught that," Self said. "It wasn't a great pass, but that was a big-time play."
Robinson said he was inspired Saturday by some words by one of the Arizona coaches on the bench.
"They told me I can't shoot," Robinson said. "I think I changed his mind really quick."
The 6-foot-9 sophomore scored 14 points on 5-for-7 shooting.
"They got last year's scouting report. That's all," Robinson said with a laugh.
Robinson bounced back after a poor effort Friday against Ohio. In that game, he had three points, two turnovers and four personals — including a technical foul — in nine minutes.
"I would say yesterday actually helped me, something to humble me really quick and get my mind back focused that we're here for a business trip," Robinson said. "My mind wasn't ready to play yesterday. It helped me get motivated to play today."
Copyright 2018 The Lawrence Journal-World. All rights reserved. This material may not be published, broadcast, rewritten or redistributed. We strive to uphold our values for every story published.