For early birds
Many stores will open before dawn on Black Friday. Here's a list of some area stores that will welcome early shoppers.
Old Navy, 3234 Iowa: 12 a.m.
Kohl's, 3240 Iowa: 3 a.m.
Target, 3201 Iowa: 4 a.m.
JCPenney, 3311 Iowa: 3 a.m.
Walmart, 3300 Iowa: 5 a.m.
Best Buy, 2020 W. 31st St.: 5 a.m.
Nebraska Furniture Mart, 1601 Village West Parkway, Kansas City, Kan.: 7 a.m.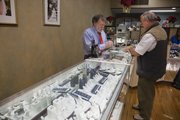 -->
Come Friday, women everywhere could have a reason to rejoice as shoppers trade in last year's trend of jeans for this year's trend of jewelry.
While many people are still feeling the effects of the recession, the National Retail Federation said consumers are looking beyond the basics in their gift giving and moving on to more discretionary spending.
Gift cards and clothing are still among the most requested presents this season. But compared with last year, more people are also asking for jewelry, personal care products and beauty items, according to a new NRF survey.
Ernie Cummings at Kizer Cummings Jewelers, 833 Mass. in downtown Lawrence, said consumer spending is rebounding.
"We have seen a gradual building of confidence," Cummings said.
Diamond earrings, pendants and rings are selling well at the store this year along with the more inexpensive designer lines of silver jewelry.
"We aren't going to see any big changes, but I hope it keeps getting better and better," Cummings said.
Just down the street from Kizer Cummings, Weaver's Department Store, 901 Mass., is also seeing stronger numbers than last year. Retailers are more optimistic this year, Weaver's President Joe Flannery said.
"The stock market is a little bit better than last year, which makes people feel like things are getting better. And gasoline prices have been stable and I think there is some pent-up demand. People have been putting off for over a year buying what they need," Flannery said.
So far, Flannery said, "fashion is selling more than basics" and people are buying more clothing, jewelry and housewares.
At Target, 3201 Iowa, toys and electronics remain the staples, said Brad McCausland, who is the Lawrence store team leader.
"We are planning on having a fairly decent season," McCausland said.
While shoppers might be more willing to splurge on the want-to-haves instead of the must-haves, the National Retail Federation found that 61 percent of the consumers surveyed said the economy will have an effect on their holiday shopping. Overall, Americans plan to spend an average of $688.81 for holiday-related shopping, about $7 more than last year.
On Friday — the biggest shopping day of the year — more than 138 million shoppers are expected to hit stores nationwide. For the big box stores along South Iowa Street in Lawrence, merchants will open long before dawn to accommodate those looking for deals.
Down at Weaver's, shoppers can use a 20-percent off coupon for any one item in the store.
"Some holidays are better than others, business wise," Flannery said. "We are looking forward to this Christmas season because people have been shopping more."
Copyright 2018 The Lawrence Journal-World. All rights reserved. This material may not be published, broadcast, rewritten or redistributed. We strive to uphold our values for every story published.