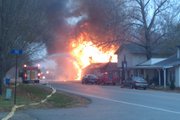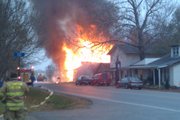 A Wednesday morning fire at a house in Big Springs will displace a western Douglas County couple for the Thanksgiving weekend, American Red Cross officials said.
Red Cross and fire officials say a house and an antique store in Big Springs in western Douglas County were badly damaged in the fire that started about 9:15 a.m.
Lecompton Fire/EMS and Kanwaka Township and Wakarusa Township fire crews were still fighting the fire on U.S. Highway 40 about one mile east of the Shawnee County line as of Wednesday afternoon.
Emergency responders are blocking the highway in western Douglas County to give fire trucks room to operate.
Jane Blocher, executive director of the Douglas County chapter of the American Red Cross, said the couple at the damaged home don't have family in the area. The Red Cross will put up the couple in a hotel through Sunday.
The couple also received Red Cross financial assistance for meals, clothing and other emergency needs.
"To have anybody displaced from their home over the holidays is always devastating," Blocher said. "Fortunately they are insured, but it's going to be a pretty sad holiday for them."
No injuries from the fire have been reported, dispatchers said.
Copyright 2018 The Lawrence Journal-World. All rights reserved. This material may not be published, broadcast, rewritten or redistributed. We strive to uphold our values for every story published.