Atlanta — The nation's airport security chief pleaded with Thanksgiving travelers for understanding and urged them not to boycott full-body scans on Wednesday, lest their protest snarl what is already one of the busiest, most stressful flying days of the year.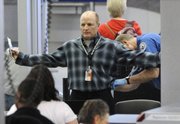 Transportation Security Administration chief John Pistole said Monday that such delaying actions would only "tie up people who want to go home and see their loved ones."
"We all wish we lived in a world where security procedures at airports weren't necessary," he said, "but that just isn't the case."
He noted the alleged attempt by a Nigerian with explosives in his underwear to bring down a plane over Detroit last Christmas.
Despite tough talk on the Internet, there was little if any indication of a passenger revolt Monday at many major U.S. airports, with very few people declining the X-ray scan that can peer through their clothes. Those who refuse are subject to a pat-down search that includes the crotch and chest.
Many travelers said that the scans and the pat-down were not much of an inconvenience, and that the stepped-up measures made them feel safer and were, in any case, unavoidable.
"Whatever keeps the country safe, I just don't have a problem with," Leah Martin, 50, of Houston, said as she waited to go through security at the Atlanta airport.
At Chicago's O'Hare Airport, Gehno Sanchez, a 38-year-old from San Francisco who works in marketing, said he doesn't mind the full-body scans. "I mean, they may make you feel like a criminal for a minute, but I'd rather do that than someone touching me," he said.
A loosely organized Internet campaign is urging people to refuse the scans on Wednesday in what is being called National Opt-Out Day. The extra time needed to pat down people could cause a cascade of delays at dozens of major airports, including those in New York, Los Angeles, Chicago and Atlanta.
"Just one or two recalcitrant passengers at an airport is all it takes to cause huge delays," said Paul Ruden, a spokesman for the American Society of Travel Agents, which has warned its more than 8,000 members about delays.
Copyright 2018 The Associated Press. All rights reserved. This material may not be published, broadcast, rewritten or redistributed. We strive to uphold our values for every story published.