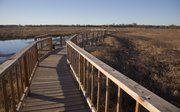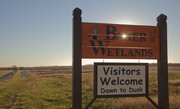 On a chilly morning this week, Roger Boyd walked through the newly restored Baker Wetlands pointing out raccoon tracks, favorite sunbathing spots for turtles and the presence of goldfinches, American avocets and quail.
Since Baker University began transforming 142 acres of cornfields into wetlands two years ago, an estimated 130 different plants, as well as deer, coyotes, beavers, opossums and birds, have laid claim to the land.
However, there's one species Boyd would like to see more of: humans.
With walking trails, a boardwalk, picnic tables and a gravel parking lot, the freshly mitigated wetlands are open to the public, even if few people seem to know about them.
"Everything we need for wetland restoration is physically done," said Boyd, who is the director of natural resources at Baker University. "What we are doing now is maintaining it. We don't want it all to be cattails."
The wetlands, which aren't exactly new since the land probably held similar vegetation and habitat before it became cropland a 150 years ago, sits south of town, west of Louisiana Street. The entrance is off North 1250 Road and marked by a bright orange sign welcoming visitors. The parking area is next door to a white farm house that is owned by the Kansas Department of Transportation and lived in by Boyd's son Jon, who is the residential refuge manager at the site.
"You're free to walk around. You don't need to knock on the door or anything. It's opened to the public," Jon Boyd said. "We'd rather you not litter, and dogs are welcomed."
While the management of restored wetlands is a job never finished, Roger Boyd has declared the transformation from cornfield to wetlands to be a successful one.
The project is tied to the controversial proposed expansion of the South Lawrence Trafficway, which would extend the existing four-lane road seven miles east from U.S. Highway 59 to Kansas Highway 10.
If funded, the new highway would align along 32nd Street. That route would destroy 60 acres in the north section of the original Baker Wetlands.
To make up for the loss of wetlands, KDOT agreed to restore 142 acres on the west side of the original Baker Wetlands and 160 acres on the east side.
KDOT's plans for building the $188 million highway continue to wait on state funding and the resolution of a lawsuit filed by people wanting to save the existing wetlands. Despite those delays, the state agency went ahead with a $975,000 contract with Baker University to build new wetlands.
The 142-acre tract began its transformation in fall 2008 when cornstalks were mowed down. During the past two years, more than 56,000 cubic yards of dirt were moved as excavators dug crescent-shaped swales and a stream channel.
Millions of seeds from 108 species in the original wetlands were gathered and dispersed throughout the new wetlands on a windy day.
This summer, the 1,100-foot boardwalk and 1,800-foot walking trail leading to the boardwalk opened. The trail takes visitors to a four-acre lake, a favorite spot for water fowl.
Last week, Boyd said the site caused a stir among local bird watchers when a flock of sandhill cranes landed at the lake, a bird that is typically spotted in Douglas County about once a decade.
Work remains at the wetlands, including a diagonal path to cut through the property and an old silo to be turned into an observation deck.
Once KDOT finishes the last leg of the trafficway, Boyd said a visitor's center will go up and restoration will start on the 162 acres of floodplain on the other side of the original wetlands.
In the meantime, Boyd said people should continue to see the new wetlands evolve.
"There's a lot of changes going on here," he said.
Copyright 2018 The Lawrence Journal-World. All rights reserved. This material may not be published, broadcast, rewritten or redistributed. We strive to uphold our values for every story published.