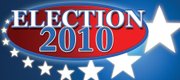 Find detailed candidate profiles, campaign finance information and complete election coverage in our Election Guide.
Raj Goyle and Mike Pompeo are running for the U.S. House of Representatives in the 4th Congressional District.
-->
Topeka — Republican businessman Mike Pompeo has won Kansas' 4th Congressional District seat, keeping the Wichita-area district in the GOP column.
Pompeo, who's a Republican national committeeman, defeated Democratic state House member Raj Goyle in Tuesday's election.
The district had been represented for years by Republican Congressman Todd Tiahrt. But Tiahrt gave up a possible re-election bid this year to seek the GOP nomination for Senate, which he lost to fellow Congressman Jerry Moran.
Moran won the Senate race on Tuesday.
10:10 p.m. update
BULLETIN (AP) — Mike Pompeo, GOP, elected U.S. House, District 4, Kansas.
9:25 p.m. update
Pompeo's lead is increasing, and he has 59.3 percent. Goyle is at 36.2 percent.
8:52 p.m. update
Pompeo still holds the lead with 57.4 percent of the vote. Goyle has 38.1 percent.
8:45 p.m. update
Republican candidate Mike Pompeo has an early lead in District 4 with 56.7 percent of the vote.
Democratic candidate Raj Goyle is trailing with 38.8 percent.
Copyright 2018 The Lawrence Journal-World. All rights reserved. This material may not be published, broadcast, rewritten or redistributed. We strive to uphold our values for every story published.