Arlington, Texas — Say Hey.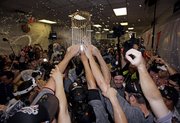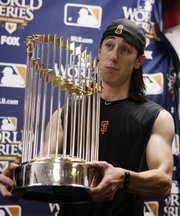 Say World Series champions.
The prize that eluded Willie and Barry for so long finally belongs to the San Francisco Giants, thanks to a band of self-described castoffs and misfits and their shaggy-haired ace.
Tim Lincecum, Edgar Renteria and the Giants won the title Monday night, beating the Texas Rangers, 3-1, in a tense Game 5 and taking the trophy home to the city by the Bay for the first time.
"San Francisco is going nuts, we're going nuts, and it feels really good," closer Brian Wilson said.
It was an overdue victory. Willie Mays led the Giants to their previous crown in 1954, four years before they moved West. After that, they never quite got it done despite the likes of baseball giants Barry Bonds, Juan Marichal and Willie McCovey.
"This buried a lot of bones — '62, '89, 2002," Giants general manager Brian Sabean said, ticking off losing Series appearances. "This group deserved it, faithful from the beginning. We're proud and humbled by the achievement."
Lincecum outdueled Cliff Lee in a matchup that was scoreless until Renteria earned the Series MVP award by hitting a stunning three-run homer with two outs in the seventh inning. Nelson Cruz homered in the bottom half, but Lincecum returned to his wicked self and preserved the lead.
Lincecum won this game of Texas Hold 'em, beating Lee for the second time in a week. He gave up three hits over eight innings and struck out 10.
The two-time NL Cy Young winner arrived at Rangers Ballpark wearing a bow tie, as if he was going to a party. He had one on the mound, for sure.
"Pretty collected. I was very poised out there. From the first inning on my adrenaline kind of just dissipated, and I was able to calm down," he said.
Wilson pitched a perfect ninth for a save, completing a surprising romp through the postseason for a pitching-rich team that waited until the final day to clinch a playoff spot.
Wilson struck out Cruz swinging to end it, turned toward center field and crossed his wrists in front of his chest as he does after all his saves.
"All the experts out there picked us last," Huff said. Normally rough and tough, he teared up.
Manager Bruce Bochy enjoys calling his Giants a ragtag bunch. Maybe Renteria, Cody Ross, Huff and Freddy Sanchez fit that description. Cut loose by other clubs this season and before, they all wound up in San Francisco.
But the foundation of this team — for now, for the foreseeable future — is totally home grown, built on a deep, talented and young rotation, a rookie catcher with huge star potential and their funky closer.
"For us to win for our fans, it's never been done there, and with all those great teams," Bochy said.
Bonds spent 15 years wearing the black and orange.
"There is no city that deserves this championship more," Bonds said in a statement. "I grew up watching my dad and godfather as Giants, lived out my dream playing in the same uniform in front of the best fans in the world and I just witnessed the Giants winning the World Series. I am ecstatic for the team, the city and all the fans — you truly deserve it."
Renteria reprised his role of postseason star. His 11th-inning single ended Game 7 of the 1997 World Series and lifted Florida over Cleveland. Forget that he made the last out in the 2004 Series that finished Boston's sweep of St. Louis — this journeyman's path led to another title, helped by his go-ahead home run in Game 2.
"It was a tough year for me," the oft-injured shortstop said. "I told myself to keep working hard and keep in shape because something is going to be good this year."
A team seemingly free of egos did everything right to take the lead. Ross, the surprising MVP of the NL championship series, stayed square and hit a leadoff single, and Juan Uribe followed with another hit up the middle.
That put a runner at second base for the first time in the game and brought up Huff, who led the Giants in home runs this year. So what did he do? He expertly put down the first sacrifice bunt of his career.
Lee struck out Pat Burrell to keep the runners put, but Ross began hopping home as soon as Renteria connected, sending a drive that kept sailing and landed over the left-center-field wall.
"It was a classic pitchers' duel down to that home run. Nobody in this room is more disappointed than I am," Lee said.
Copyright 2018 The Associated Press. All rights reserved. This material may not be published, broadcast, rewritten or redistributed. We strive to uphold our values for every story published.