About 125 "students" are on the Kansas University campus this week taking in all kinds of classes — from the sexual behavior of insects to the latest developments on cancer research.
It's all part of KU's Mini College, which seeks to open the doors of KU's College of Liberal Arts and Sciences to members of the public for a week. Those who enroll can sit in on a variety of lectures and sessions on a wide range of topics.
Thomas Standish, who graduated from KU in 1974, was back for a second go-around after enjoying his time last year.
"You get a good opportunity to get back on campus and re-establish some things outside of sports with KU," Standish said.
Many things have changed on the campus since the 1970s, Standish said, standing outside Wescoe Hall.
"Strong Hall hasn't," he pointed out, looking across Jayhawk Boulevard to the administrative building.
Mark and Judith Clough came from Parkville, Mo., to the event, and had signed up for some of the same courses, but some different ones, too, so they could share their experiences later.
"This is our vacation this year," Judith said.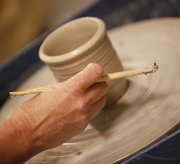 About 15 of the attendees are staying in the KU residence halls for the full student experience. Not so for the Cloughs; while they considered it, they figured they'd better go with a Holiday Inn instead.
"Don't they have those commercials where they're supposed to make you smarter?" Judith asked.
Kristi Henderson, outreach coordinator with the college, said the idea for the event started with former CLAS Dean Joseph Steinmetz, who had organized a similar event at Indiana University.
KU's first attempt last year was successful, Henderson said, and many of the attendees returned this year.
Classes and lectures for the participants will be running all week on the KU campus.
"Everyone had a great time, and we're hoping they have a great time again this year," she said.
Next year's event is scheduled for June 6-10, 2011. More information is available online at http://minicollege.ku.edu.
Copyright 2018 The Lawrence Journal-World. All rights reserved. This material may not be published, broadcast, rewritten or redistributed. We strive to uphold our values for every story published.